Morecambe and Wise - an Entry What I Wrote
Created | Updated Feb 27, 2010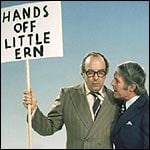 Bring me sunshine in your smile
Bring me laughter all the while
In the north of England in the 1920s, two boys were born, one each side of the Pennines, to working-class parents. Unlikely as it seems, these two lads went on to become Britain's 'Favourite Light Entertainment Performers'1 and probably the most well-loved entertainers in British history. Today, nearly 25 years after their last performance, their shows are still repeated and their sketches and stage routines held up as examples of the best of the art.
From Stage to Television
Eric and Ernie first met in 1939, when both were still in their early teens. Eric was performing in a talent competition, and Ernie had been invited along by organiser Jack Hylton, a bandleader, to help him assess the acts. Eric was the stand-out performer of the day, and Hylton offered him a part in a musical revue called Youth Takes a Bow. Two months later, Ernie also joined the cast.
After World War II, during which Eric worked as a coal miner while Ernie joined the merchant navy, the two met up again, entirely by chance. They restarted their double-act and worked their way around the British variety circuit. By the early 1950s they were starting to become well known, and television beckoned. In 1953, they made a brief appearance on a television variety show, and shortly afterwards were signed up by the BBC for their own show. The result, Running Wild, was an unmitigated disaster, leading to probably their most famous newspaper review:
Definition of the week: TV set - the box in which they buried Morecambe and Wise
The review hurt Eric badly, and he carried a copy of it around with him for the rest of his life - even at the peak of their success, Eric could be haunted by self-doubt. Despite the setback, the boys fought on, returning to the stage. Finally, three years later, they were rewarded with a regular spot on The Winifred Atwell Show. This time, they kept closer control of their act, their material being written by Jonny Speight, who would go on to write the acclaimed sitcom Till Death Us Do Part2. Their appearances in the show were well received, and the following year they hosted a television revue show called Double Six. Finally, in 1961, they were given a new show of their own - Two of a Kind.
With writers Sid Green and Dick Hills, the duo performed sketches and introduced a variety of guest stars including, in 1963, the fledgling Beatles. The shows, all but the last series shot in black and white, were very traditional, consisting of sketches interspersed with relatively 'straight' appearances from the guests. Needless to say, the series were an enormous success, leading Morecambe and Wise to branch out into feature films.
Get Out of That...
The duo's first film was 1965's The Intelligence Men, written by Sid Green, Dick Hills and Peter Blackmore. The plot, such as it is, features Eric as the owner of a coffee shop who, after a chance meeting with an agent from dreaded secret society 'Schlect', is recruited by MI5 agent, Ernie. Impersonating a recently-assassinated member of Schlect, Eric is forced to go undercover to protect a beautiful Russian ballet dancer. Of course, the plot is merely an excuse for a string of set-pieces featuring Eric and Ernie's typical double-act routine.
Probably the best of the films the pair made, The Intelligence Men has some wonderful moments, but the overall effect is always less successful than their television work, mainly due to the lack of a live audience and the necessary restrictions on Eric's improvisational abilities.
The following year, Eric and Ernie starred in That Riviera Touch, also written by Hills, Green and Blackmore. After an embarrassing incident with a traffic warden and a member of the Royal family, the pair decide to take a holiday to the south of France. When they get there, they find they are being used as pawns in a plot to smuggle a cache of valuable jewels, and forced to live in a deserted, trap-filled villa, where dead bodies mysteriously keep appearing and disappearing.
One year later, the same writing team produced The Magnificent Two, in which Eric and Ernie play a pair of travelling salesmen working in South America. They get caught up in a civil war after one of the revolutionary leaders, who just happens to look like Eric, is killed. The Magnificent Two was easily the worst of the three films the pair made in the 1960s and, to the relief of their fans, they decided that Hollywood was not for them.
Back to Television
Eventually, Eric and Ernie became unhappy with their contract at independent television company ATV. In 1968, they and writers Hills and Green moved to the BBC. After one series of The Morecambe and Wise Show, Eric suffered his first heart attack. No-one knew if he would recover enough to resume work, and Hills and Green returned to ITV. Eric, of course, did recover, and the problem arose of who would now write their scripts. Enter Eddie Braben, who up to that point had been writing for Liverpudlian comedian Ken Dodd. Braben invented a 'home-life' for the pair, setting many sketches in and around their flat, including the bedroom, where Eric and Ernie shared a double bed, and the kitchen, in which the pair memorably prepared breakfast to the tune of 'The Stripper'. Although the shows appeared to be quite shambolic and 'thrown together', they were scrupulously scripted and rehearsed. Of course, this didn't stop Eric from launching into improvisation if he felt that the moment was right.
Braben's other major invention was the series of 'Plays Wot Ernie Wrote' - each one taking a famous work of literature or historical event and putting it through the wringer. The fiction was always maintained that Ernie wrote each play, and he would also play the lead character. Of course, he would be continually upstaged by Eric, playing himself. The two would also be joined by a guest star, and some of the most famous names in British film, theatre, music and television have been lovingly humiliated by appearing in one of Ernie's plays. Indeed, by the mid-1970s, it seemed as though every celebrity in Britain was desperate to appear with Morecambe and Wise.
This Boy's a Fool
One of the most celebrated guest appearances on the show was by the internationally-respected conductor, composer and pianist André Previn. Theoretically there to conduct Eric in a performance of Grieg's Piano Concerto, he is somewhat distracted by Eric's requests for him to jump up and wave when it is time for the piano to start playing. Then, when Eric starts playing a jaunty version of the main theme, he strides over to the piano to inform him that he is playing all the wrong notes. Eric, seething with rage, grabs 'Andrew Preview' by the lapels and informs him:
I am playing all the right notes, but not necessarily in the right order.
The complete list of guest stars who appeared with Morecambe and Wise is enormous, so a few notable examples will have to suffice:
Shirley Bassey - singer
Glenda Jackson - actress, and now politician
Vanessa Redgrave - actress
Laurence Olivier - actor
Elton John - singer
Cliff Richard - singer
Burt Bacharach - songwriter
Diana Rigg - actress
Angela Rippon3 - newsreader and television presenter
Vincent Price - actor
Peter Cushing - actor
Michael Caine - actor
Harold Wilson - ex-Prime Minister
One guest who suffered more than most was Des O'Connor4, who was the constant butt of Eric's jokes about his 'singing'. Eventually he appeared on the show, with Eric and Ernie's desperate attempts to stop him from performing one of his songs. The willingness of guests such as Des to appear, despite being insulted, humiliated and forced to perform in dance routines, or act in Ernie's plays, shows exactly the level of affection and respect that was felt for Morecambe and Wise.

As well as their 'special guests', Eric and Ernie also employed a number of regular performers. In their early Two of a Kind shows, writers Sid Green and Dick Hills - only ever referred to as Sid and Dick - occasionally appeared in sketches. In the later shows, harmonica player Arthur Tolcher would often appear briefly before being unceremoniously thrown off. In addition shows would often be ended with actress Janet Webb walking on stage to thank everyone for watching 'her show', ending with a heartfelt 'thank you, and I love you all'.
It Must Be Christmas
One of the highlights of each television year throughout the 1970s was the Morecambe and Wise Christmas Special. These were lavish productions, longer than the usual episodes of their series, with many guests making cameo appearances. In 1977, the Christmas Special recorded around 28 million viewers, roughly half of the population of Britain at that time, setting a record that still stands for the largest audience for a British variety show. Popular rumour has it that even the Queen delayed her official Christmas dinner to watch.
The Beginning of the End
In 1978, ten years after they joined the BBC, Eric and Ernie moved back to the independent television sector, joining Thames TV. Sadly, Eddie Braben was still contracted to the BBC and the pair had to find new writers. At around the same time, Eric had a second heart attack and underwent substantial surgery. While still funny, the new Morecambe and Wise Show was undoubtedly affected by Eric's ill-health and failed to generate the same response as it had at the BBC. The pair even resorted to re-using some of their old scripts, adding to the impression that their best years were now behind them.
In 1983, Eric and Ernie co-wrote a film called Night Train to Murder, in which Eric's niece inherits a fortune, and with it a mysterious assassin. Eric in particular was unhappy with the finished product, insisting that if it was to be shown on television, it should only be shown in the traditional children's 'tea-time' slot. Sadly, the film was to be Eric and Ernie's last work together. In 1984, Eric had a heart attack while on stage at a charity concert and never recovered.
Although their career was declining at the time, the death of Eric had a massive impact. It marked the end of an era in British comedy and, in terms of their broad appeal and the public's affection, Morecambe and Wise have never been replaced.
Eric and Ernie
John Eric Bartholomew
The man who would one day be voted the 'Funniest Person of the 20th Century' in a 1999 Internet poll started life in the seaside resort of Morecambe, Lancashire on 14 May, 1926. By the age of three, the young Eric was already entertaining his family and their friends by singing and dancing. When a slightly-older Eric professed his strong dislike of school, his mother, Sadie, encouraged him with his showbusiness career. As a child, Eric entered, and won, a number of talent competitions, usually by singing comic songs. His hero was George Formby, and he was also inspired by Stan Laurel - both Lancashire lads who had gone on to stardom as comedy performers.
At the age of 13, as described above, Eric entered a national talent competition. His winning performance was seen both by bandleader Jack Hylton and by a young Ernie. Changing his name to Morecambe, after his home town, Eric's career began in earnest.
Throughout his life, Eric was a keen football fan and ardent supporter of Luton Town FC. In one episode he dressed actress Glenda Jackson in a Luton Town banner. Eric became a director of the club and eventually watched them achieve a place in the top division in 1974.
- *Cough* Arsenal!
- Who said that?
In 1952, Eric married Joan Bartlett, with Ernie as his best man. The couple had two children, Gary and Gail, and later adopted a second son, Steven. Eric and Joan remained married for the rest of Eric's life - Joan was at Eric's bedside when he died in 1984.
Eric's death came as a great shock, not just to his family, but to his many fans. The general consensus seemed to be that 'Christmas just won't be the same again'. And, in a way, it never was.
In 1999, the Queen unveiled a statue of Eric - by sculptor Graham Ibbeson - on the seafront in his hometown of Morecambe. The statue has Eric doing the trademark 'dance' that he and Ernie would do while leaving the stage at the end of their shows. The statue also features the names of 103 celebrities who appeared with the duo, some of whom were present at the unveiling.
Ernest Wiseman
Ernie was born some six months earlier than Eric, on 27 November, 1925, in Leeds, West Yorkshire. As with Eric, Ernie had been brought up as a performer, touring northern working-men's clubs with his father and facing some of the toughest audiences imaginable. Ernie was spotted by impresario Bryan Michie, who recommended him to Jack Hylton. Hylton signed Ernie up, changed the name Ernest Wiseman to Ernie Wise, and one day took him along to judge the talent contest at which he first met Eric.
As his double-act with Eric was beginning to take off in the early 1950s, Ernie married dancer Doreen Blythe and, as with his comedy partner, Ernie's marriage was to last until his death in 1999.
After the death of Eric in 1984, Ernie's career gradually began to fade away. He took roles on stage, particularly in pantomime, but, without his partner, the offers of work didn't come as often as he would have liked, or deserved. Eventually he retired to Florida where, after several years of heart trouble and a triple-bypass operation, he eventually succumbed to a heart attack, as Eric had done 15 years previously. Ernie was flown home by air-ambulance and died soon afterwards.
Tributes from fans and celebrities were every bit as heartfelt as they had been for Eric. Often under-appreciated throughout his career, slightly overshadowed as he was by the comedic talent of Eric, Ernie's role in the partnership came to be justly appreciated by the public. He was the perfect foil for Eric, allowing him to disappear off into flights of invention and one-liners, always bringing him back at exactly the right time, setting up gags for Eric with expert timing and, perhaps most importantly, having a genuine warmth and affection for his partner that shone through the comedy and made the viewer feel exactly the same way.
The Legacy
Through repeats on television, videos and DVDs, Morecambe and Wise remain popular. Every Christmas, someone can be heard bemoaning the fact that a suitable replacement has never been found, even after nearly 20 years. Morecambe and Wise routines often feature in compilations and documentaries about television comedy and, as mentioned above, Eric Morecambe was posthumously awarded the title of 'Funniest Person of the 20th Century', while the pair were voted Britain's 'Favourite Light Entertainment Performers' in a BBC poll.
More recently, a play, telling the story of two struggling comedians who stage a tribute to Morecambe and Wise, opened in London's West End. The play, written by and starring Hamish McColl and Sean Foley, and directed by Kenneth Brannagh is appropriately entitled The Play What I Wrote, and uses some of Eric and Ernie's original scripts. In typical Eric and Ernie fashion, the play also features a 'guest star' each night, who bears the brunt of many of the jokes. The play has received excellent reviews, with guest stars queueing up to appear.
On television, on stage and, most importantly, in the memories of their fans, Eric and Ernie will carry on making people laugh for many, many years to come.
Make me happy through the years
Never bring me any tears
Let your arms be as warm as the sun from up above
Bring me fun, bring me sunshine, bring me love
1In a poll of television viewers, held to mark the 60th anniversary of the BBC.
2Remade in the USA as All In the Family.
3Who caused something of a stir by revealing a talent for dancing - not to mention her unexpectedly long and shapely legs - to the nation in a high-kicking routine. This was not considered to be appropriate behaviour for a BBC newsreader...
4Television presenter, chat-chow host and some-time singer.