Horse Racing at the Hong Kong Jockey Club
Created | Updated Jul 25, 2007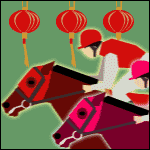 In the old days, when Hong Kong was a British colony, it was said that the true power in the territory rested in the Jockey Club, the Hong Kong Bank and the British governor - in that order. The maxim was always made in jest, but there was more than a kernel of truth to it.
- The Washington Times, 6 April, 2000
In Hong Kong, all gambling is administered by the Hong Kong Jockey Club. Horse racing, far and away the favourite pastime of the Hong Kong population, is taken as seriously as football in Europe or baseball in the United States, and the average attendance at race meetings at the two courses, at Sha Tin and Happy Valley, exceeds 45,000.
Racing in Hong Kong is more exciting than anywhere else in the world. There are a limited number of races and a limited number of horses, so that makes each race very special indeed.
- Basil Marcus, South African jockey who rides in Hong Kong
With cards twice a week from September to June, the Hong Kong Jockey Club receives in excess of U$10 billion in betting revenues (around 80% of the US combined take from 167 racecourses), and the totalised wagers staked on a single day's meeting can quite often be more then an entire year's betting on many European and American racetracks.
Nevertheless, the HKJC does not make a profit, nor is it allowed to do so. Instead, the Jockey Club is Hong Kong's largest contributor to tax revenue, and is the biggest single supporter of the city's charitable causes. Indeed, at the end of the 2000 - 2001 racing season, the HKJC had given HK$1.06 billion in charitable donations to assist 180 charitable organisations and community projects.
The HKJC's own vision statement is 'to be a world leader in the provision of horse racing, sporting and betting entertainment, and Hong Kong's premier charity and community benefactor', which it achieves by adherence to its Mission Statement:
To provide total customer satisfaction through meeting the expectations of all Club customers and stakeholders - the racing and betting public; lottery players; Club Members; charity and community organisations; Government; and, ultimately, the people of Hong Kong - and thereby be one of Hong Kong's most respected organisations.
- Mission Statement, Hong Kong Jockey Club
History
Racing began in Hong Kong in 1846, when the first race meeting was held at Happy Valley, an erstwhile piece of malarial marshland and virtually the only flat land on Hong Kong Island. Meetings initially occurred once a year and were usually timed to coincide with the Lunar New Year.
In 1884, the Royal1 Hong Kong Jockey Club itself was founded in order to formalise the administration of the territory's racing. In addition to organising all racing activities, the HKJC took a commission on bets which were still placed through private clubs. The first Club Secretary was appointed in 1907, and a Club office was set up in Central.
In 1959, charitable donations from the Jockey Club were regularly large enough to warrant the formation of The Hong Kong Jockey Club (Charities) Limited, which in 1993 was replaced by The Hong Kong Jockey Club Charities Trust.
The 1970s saw a flurry of activity as the HKJC further regularised racing practices in Hong Kong, beginning with the switch from amateur to professional racing organisation status in 1971. Two years later, the Government authorised the HKJC to establish off-course betting (OCB) branches in order to combat illegal bookmaking. A year later, in 1974, the Club opened the first six OCB branches, and a telephone betting service commenced with 2000 accounts.
In 1978, funded by night-racing that had been introduced at Happy Valley in 1973, Sha Tin Racecourse opened at Penfold Park in the New Territories. In 1988, Telebet conducted its first test-run of the hand-held Customer Input Terminal with 200 users. Now (2002), with 125 OCB branches, 739,000 Telebet accounts, and over 80,000 Customer Input Terminals some five million betting tickets are sold for each race meeting.
The Horses
All horses racing in Hong Kong are imported - there are no breeding programmes locally. Until the mid-1990s, racehorses were imported exclusively by the Royal Hong Kong Jockey Club from Europe and Australia. In the days before airfreight and then Suez, this would have meant an eastbound sea-trip via Cape Town for horses from the UK. Nowadays, around three-fifths of the 1200 or so Hong Kong stabled race-horses are bred in and imported from either Australia or New Zealand. Around a fifth come from the United States, and 10% from Ireland. The remainder come from the other traditional homes of racing; ie, France, UK and South Africa.
The Jockeys
Likewise, until recently, when professionalism has taken over from the bygone age of the 'gentleman-jockey', the top riders are all imported too (with jockeys coming from, among other places, South Africa, France, Britain and Ireland). Nevertheless, some of the local (Hong Kong Chinese) jockeys, who have been racing under apprenticeship started (during the late 1990s) to show that they can compete with the expatriates.

The Racetracks
Happy Valley
Horse Racing first came to Hong Kong in 1846 when a race was held at Happy Valley, a drained piece of marshland on Hong Kong Island in what is now Causeway Bay. The first permanent stands were erected in 1931, with subsequent major developments and refurbishments in 1957, 1969 and 1995. Today, in 2002, Happy Valley Racecourse nestles like a Roman amphitheatre among the surrounding hills, skyscrapers and general hullabaloo of Hong Kong, its seven-storey stands capable of housing some 55,000 punters. Happy Valley is a short walk away from Causeway Bay MTR2 Station. On race days, it is impossible not to know which way to go.
Sha Tin
The Sha Tin3 track, opened in the New Territories in 1978 and built4 on the revenue raised from newly introduced night-racing at Happy Valley, hosted Hong Kong's first international race meeting, the Hong Kong Invitation Cup, on 24 January, 1988. Sha Tin, with a total trackside capacity of over 85,000 now provides the venue for several world renowned races, including The Hong Kong Cup, The Hong Kong Mile, The Hong Kong Vase, and The Hong Kong Sprint. Surrounding the public 'Penfold Park', Sha Tin is mainly used for daytime race meetings and has its own dedicated railway station (appropriately named 'Racecourse'), although it is only a short walk from Fo Tan KCR5 Station. On race days, it is impossible not to know which way to go.
Types of Bet Available
In Hong Kong, all gambling on horse racing is administered by the Hong Kong Jockey Club (HKJC). There are no (legal) bookmakers or fixed-odds bets. All wagers are transferred to a single pari-mutuel6 pool and dividends are calculated by the totaliser which determines the starting-price in the usual fashion by first removing the 'house cut', and then allocating the distribution of the balance in the kitty to punters holding winning tickets.
The minimum stake is HK$10 7 and the minimum winning payout is HK$10.508.
Types of Bets available on a single race are as follows:
Win
Also known as a Straight Bet, or a Single, this is the simplest bet. A bet on a horse To Win will collect only if the chosen horse is the first across the finish line.
Place
The Place Bet is essentially a Hedged Win Bet. Typically, dividends are dramatically reduced as the chances of collecting any dividend are greatly increased.
A winning Place bet will pay for first, second or third in a race with seven or more declared starters and first or second in a race with between four and six declared starters.
Placing two bets, one for a win and one for a place, is essentially the same as an English Each-Way bet.
Quinella
A Quinella Bet is the selection of two horses to finish first and second in either order in a given race. In English racing, this is known as a Reverse Forecast.
Quinella Place (QP)
The QP is a punt on any two of the first three placed horses in any finishing order. Although one bet covers two horses, six winning scenarios (first and second; second and first; first and third; third and first; second and third; third and second) are covered and dividends drop accordingly.
Tierce
A winning Tierce Bet requires the correct selection of three horses to come first, second and third in the correct order in the race. Dividends paid out on this type of bet are typically high.
Trio
The Trio is in effect a 'hedged' Tierce. Whereas the Tierce is one single bet, the trio covers all permutations of the three selected horses to finish first, second and third in the race and is thus six bets under one stake. Thus, in theory, winning Trio dividends should be roughly one sixth those paid to winning Tierce ticket holders.
Double Trio
A winning Double Trio requires the correct selection of two winning trios (see above) in two races (or legs) predetermined by the HKJC. A normal race meeting may have two Double Trios, being called the First Double Trio and the Second Double Trio.
Triple Trio
Like the Double Trio (see above), a winning Triple Trio requires the correct selection of three winning trios (see above) in three races (or legs) predetermined by the HKJC. A normal race meeting will only have one Triple Trio. Typically a Consolation is paid to punters who are successful over the first two legs but whose selections fail to perform over the third leg.
Double
A punter collects if he correctly selects the winners of two nominated races. This is effectively a two-horse accumulator. A Consolation is paid out if a gambler's selections come in first in the first leg and second in the second leg.
Treble
In a winning Treble, a punter must correctly select the winners of three nominated races. This is effectively an accumulator over three races. A Consolation is paid out if a gambler's selections come in first in both the first and second leg and second in the third leg.
Six-up
To collect on a winning Six-up ticket, a punter must correctly forecast a horse in each of six nominated races to either win or come second. This is also known in racing vernacular as a Pick Six. An additional Six-up Bonus is payable to a punter whose six selections each win their respective races.
1The reference to the UK Monarchy was dropped in 1997, when sovereignty of Hong Kong was 'handed back' to China.
2Mass Transit Railway.
3Cantonese: Sha Tin = Sand Field.
4250 acres reclaimed from the sea using 14 million cubic yards of hillside deposited into the reclamation site, at the rate of one truck per 8.5 seconds.
5 Kowloon-Canton Railway.
6A form of betting in which those backing the first three places divide the losers' stakes.
7£1 = HK$16, at the time of last update.
8 This would be '20/1 on' in English gambling parlance, and would indicate that a horse could well win the race with its hooves tied behind its back. Thus, notably, only in the extraordinarily unlikely circumstance where a winning horse is more than twenty times further subscribed than the aggregate wagers on all other horses in the race would the HKJC lose money.