Popular Christmas Carols
Created | Updated May 27, 2013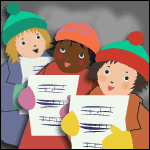 Carol (n.) - A religious folk song or popular hymn, particularly one associated with Christmas.
There's no doubt about it - Christmas just wouldn't be Christmas without carols. Even people who never go to church still enjoy them. For some, they can bring back all those memories of a childhood perhaps too long ago and far away. For others, they bring home the message and the spirit of Christmas as nothing else can.
Of course, when it comes to Christmas, there are always those who are inclined to agree with King Herod's robust views on children, or to adopt the forthright attitude of Ebenezer Scrooge. Bah! Humbug!
Carols are about a baby, and a star, and the angels, and peace, and goodwill, and figgy pudding. Carols also recall the old pagan times of holly and mistletoe, yule logs and evergreen trees, roaring fires and roasted boar, and wassail.
A Researcher writes:
I've spent many a frosty, foggy December night with a small group going from pub to pub, singing carols and passing the hat round for a local charity; or singing in hospital wards to an appreciative audience of patients and staff; or even in the arrivals hall of an international airport, where people coming back for Christmas from far-off places appreciate the traditional 'welcome home' and generously donate their spare foreign currency.
The latest Christmas hit number coming out of loudspeakers may have its attractions, but a scruffy group of enthusiastic carol-singers singing at the tops of their hoarse voices is a scene worthy of a Christmas-card. And when people realise we can actually do it in pretty reasonable four-part harmony, - and with all the right words, too - wow! that's really appreciated.
A Brief History
It's said that St Francis of Assisi (c1182 - 1226) started the tradition of having a crib in church during the Christmas season - a candlelit model of a stable with the baby Jesus, the Holy Family, farm animals, some shepherds and perhaps the Three Wise Men - around which the children would sing carols and maybe dance as well.

The earliest use of the word 'carol' in English referred to a round dance. But later it came to mean a joyful hymn, particularly one associated with the Nativity, though it might also be associated with another season (such as Easter), or no particular season at all.

A description of the festivities on Twelfth Night (6th January) 1487 says:

At the Table in the Medell of the Hall sat the Deane and thoos of the kings Chapell, which incontynently after the Kings furst Course sange a Caralle.

William Caxton was a 15th-Century Englishman and the first person to print books in English. But it was Jan van Wynkyn (known as Wynkyn de Worde), his apprentice and later his successor as printer, who in 1521 published the oldest printed collection of Christmas carols, including the 'Boar's Head Carol' which is still sung today.

Later, the Waits or Waytes - the watchmen of the city - would patrol the streets during the night sounding a simple horn or 'hautboy' (oboe) to mark the passing hours. They started a custom of serenading the public at Christmas time, which is why peripatetic carol-singers are sometimes called Christmas Waits. Hence the refrain of one carol: Past three o'clock, and a cold, frosty morning! Good morrow, masters all!
The most popular carols are so familiar that we hardly, if ever, stop to wonder where they came from or how old they are. So here's a bit of background on some of the favourite ones.
'Silent Night'
Silent night, holy night.
All is calm, all is bright
Round yon virgin-mother and child.
Holy infant so tender and mild,
Sleep in heavenly peace,
Sleep in heavenly peace.
This must be the best-known Christmas carol in the world. Originally from Austria, it has been translated into hundreds of languages. Its international appeal was poignantly highlighted during the First World War (and later conflicts) when on Christmas Eve on the battlefield the Allies and the enemy forces both laid down their arms and together sang 'Silent Night' (Stille Nacht) across No Man's Land.
The Words
The words were written by Fr Joseph Mohr in 1816, when he was a young priest. Mohr was born in 1792, in Salzburg, Austria, to a poor spinster. His father didn't want to know him. He was brought up in Salzburg, in dire poverty, in a small room in the house at Steingasse 31, where he and his mother lived with his aged grandmother. The town's executioner was his godfather. As he grew up he was taken under the wing of the cathedral choirmaster, who made sure that the boy received a proper education. He completed his education and was ordained priest in 1815.
The Music
On Christmas Eve 1818, Joseph Mohr paid a visit to a friend, the musician and schoolteacher Franz Gruber, who lived nearby in Arnsdorf. He showed Gruber the poem and asked him to set it to music so that it could be sung at Midnight Mass. Gruber, born in 1787 the son of a poor linen-weaver, was a talented musician and organist at the church. Within a few hours, he had written the music for 'Silent Night', and arranged it for two solo voices and choir, with guitar accompaniment, since the organ was out of order. The tune generally sung these days is a slightly modified version of the original.
It was probably some years later that a visiting organ repairman would have come across the music and taken it back home with him. From there, it probably came to the notice of a troupe of travelling singers as a Tyrolean folk song, and soon became widely known and loved throughout the region. Eventually another family of folk singers took it with them to New York City, USA, where they first performed it in 1839.
'O Come, All Ye Faithful'
O come, all ye faithful,
Joyful and triumphant,
O come ye, O come ye to Bethlehem;
Come and behold him
Born the king of angels:
O come let us adore him, Christ the Lord.
Although this carol has been attributed to the 13th-Century Franciscan, St Bonaventure, it is probably much more recent, and by a Brit. It was written in Latin ('Adeste, fideles'), with words and music probably by John Francis Wade (1711 - 1786). The tune to 'O Come, All Ye Faithful' was used in Vaudeville in Paris in 1744, where it was called 'Air anglais'. This was the era of Handel's Messiah, and Handel used part of the tune of 'Adeste, fideles' in one of his operas. 'Adeste, fideles' is sometimes called a Portuguese hymn, but that is only because it was used in the chapel of the Portuguese embassy in London.
The most popular English version is the one quoted above, by Canon Frederick Oakeley of London. This version dates from 1852.
'While Shepherds Watched their Flocks'
While shepherds watched their flocks by night,
All seated on the ground,
The angel of the Lord came down,
And glory shone around.
The Words
The words are by the poet and playwright Nahum Tate. He was born in Dublin, Ireland, in 1652, and was a graduate of Trinity College in that fair city.
In 1692 Tate became Britain's Poet Laureate, an official of the royal court who has no particular duties, but who (as the Muse inspires) may occasionally compose poems and odes in celebration of noteworthy royal events and other national occasions. The position of Poet Laureate exists to this day, and has been held in the past by Jonson, Dryden, Wordsworth and Tennyson, among others.
Nahum Tate was known for his attempts to 'improve' on Shakespeare, by providing happy endings to the Tragedies! Tate died in 1715, and is buried in St Paul's Cathedral, London, England.
The Music
Handel's 'While Shepherds Watched' is a very good tune - simple, yet unmistakably Handel - but unfortunately it is hardly ever heard these days. The usual tune is the one called 'Winchester Old', by Christopher Tye (c1500 - c1572). Tye was a fine composer and Master of the Choristers at Ely Cathedral (not far from Cambridge). He was also a Gentleman of the Chapel Royal under King Edward VI and Queen Elizabeth I.
An old manuscript has the following story:
Dr Tye was a peevish and humoursome man, especially in his latter dayes, and sometimes playing on ye Organ in ye chap. of qu. Elizab. wh. contained much musick, but little of delight to the ear, she would send ye verger to tell him yt he play'd out of Tune: whereupon he sent word yt her ears were out of Tune.
'Winchester Old' is an adaptation of a tune from Tye's setting of The Acts of the Apostles, 'wyth notes to eche Chapter to synge and also to playe upon the Lute' (1553).
Another good tune to these words is 'Hampton', by Richard Storrs Willis, 1850.
'O Little Town of Bethlehem'
O little town of Bethlehem, how still we see thee lie!
Above thy deep and dreamless sleep the silent stars go by;
Yet in thy dark streets shineth the everlasting Light;
The hopes and fears
Of all the years
Are met in thee tonight.
The Words
The words were written by Phillips Brooks (1835 - 1893), who was born and died in Boston, Massachusetts, USA. He has been called 'the greatest American preacher of the 19th Century'. He attended Harvard University (where Phillips Brooks House was named after him) and an Episcopal Theological Seminary, becoming an Episcopal priest in 1860. He was known for his support for freeing the slaves and allowing former slaves to vote. In 1891, he became Episcopal Bishop of Massachusetts.
In 1865, as an Episcopal priest in Philadelphia, Pennsylvania, Phillips Brooks travelled to the Holy Land. Journeying to Bethlehem on Christmas Eve, he stopped to watch the Sun set over the town. He then attended a service at the Church of the Nativity in Bethlehem. Three years later, as he prepared for the Christmas service in his parish, he handed a poem to the church organist. He explained that the memory of his trip to the Holy Land was 'still singing in my soul'.
The Music
That organist was Lewis Henry Redner (1830 - 1908), born in Philadelphia. By profession a highly successful real-estate broker, on Sundays he was a leader in the Sunday school, and set Brooks' words to music for the children's choir. The tune he wrote was called 'St Louis', which, however, is rarely heard outside the USA.
The tune usually sung in the UK is called 'Forest Green', a Traditional English song tune collected by Ralph Vaughan Williams, the composer and folk song collector.
'Once In Royal David's City'
Once in royal David's city
Stood a lowly cattle shed,
Where a mother laid her baby
In a manger for his bed:
Mary was that mother mild,
Jesus Christ her little child.
The Words
The words of this charming carol are by Cecil Frances Alexander (1818 - 1895), a poet and hymn writer born in Co Wicklow, Ireland. They come from her immensely popular Hymns for Little Children, a collection published in 1848 which includes such favourites as 'All Things Bright and Beautiful' and 'There Is a Green Hill Far Away'.
The Music
The tune to 'Once In Royal David's City' is by HJ Gauntlett (1805 - 1876), who is said to have composed as many as 10,000 hymn tunes.
'The Twelve Days of Christmas'
On the nth day of Christmas my true love sent to me:
Twelve lords a-leaping,
Eleven ladies dancing,
Ten pipers piping,
Nine drummers drumming,
Eight maids a-milking,
Seven swans a-swimming,
Six geese a-laying,
Five gold rings,
Four colly birds,
Three French hens,
Two turtle doves, and
A partridge in a pear tree.
What is a colly bird? Not, as some people think, a 'calling' bird, but an old popular name for a blackbird - colly being a dialect word for coal dust.
The 12 days of Christmas are the 12 days between Christmas and Epiphany (January 6). In the past, gifts used to be exchanged throughout the 12 days, rather than all on Christmas Day itself.
The words of this song first appeared in a book published in England around 1780, called Mirth Without Mischief. The tune is much older, and French. Mirth Without Mischief describes 'The Twelve Days of Christmas' as a 'memory and forfeits game' played by children. The leader would recite the first verse, the next child the second verse, and so on until someone missed his or her verse and had to pay some kind of forfeit or penalty.
There is a story going around the Internet that the verse is all to do with teaching children the catechism, and was a secret code for articles of Catholic faith. However, that story has been comprehensively debunked as a myth.
Many other theories have been put forward to explain the strange collection of gifts catalogued in this carol, and various attempts have been made to explain them as symbolic of something or other. It has been suggested that 'pear tree' is a corruption of perdrix (pronounced 'pair-dree'), the French for partridge1.
'Good King Wenceslas'
Good King Wenceslas looked out on the Feast of Stephen,
When the snow lay round about, deep and crisp and even:
Brightly shone the moon that night, though the frost was cruel,
When a poor man came in sight, gath'ring winter fuel.
Good King Wenceslas was actually St Wenceslas (c903 - 929), Duke of Bohemia. He was born in Stochov, in what is now the Czech Republic, whose Patron Saint he has become. His grandparents were St Ludmilla and Prince Borivoj, who were the first to bring Christianity to that part of the world. Wenceslas, whose mother Drahomira was a heathen, received a Christian upbringing and did much to encourage Christianity in Bohemia, very much against the wishes of his mother. He was martyred at the hands of his younger brother Boleslav, at the urging of their mother.
The Words
The words are by John Mason Neale (1818 - 1866), the English hymnologist, a High Church Anglican. He wrote many hymns himself, and translated many more. He wrote this one in 1853, setting Wenceslas up as an example to teach children to show hospitality and generosity.
As it happens, the first king of Hungary was called Stephen and became a saint in 1083. His crown, known as St Stephen's Crown, is one of the Hungarian national treasures. The Stephen mentioned in this carol, however, is St Stephen the first Christian martyr, stoned to death in Jerusalem. The Feast of Stephen, or St Stephen's day, is on 26 December, also known as Boxing Day because of the custom of giving a tip or Christmas box to tradespeople on this day.
The Music
For 'Good King Wenceslas' Neale found a spring tune, originally sung to the Latin words 'Tempus adest floridum' or 'Spring has unwrapped her flowers'. The tune was first published in 1582 in an important collection of church and school songs, known as Piae Cantiones ('Devout Songs').
Piae Cantiones is of Scandinavian origin. The first edition, published in 1582 by a Finnish student, was a collection of medieval Latin songs or hymns for the pupils of the Cathedral school of Turku, Finland. The Finnish edition of the songs dating from 1616 is among the earliest Finnish poetry. Then in 1625 another Latin edition was published, also by Finns. The first English edition was published in 1910 and is by GR Woodward (who wrote the words to Ding Dong! Merrily On High).
'Hark! The Herald Angels Sing'
Hark! the herald angels sing
Glory to the new-born King;
Peace on earth and mercy mild,
God and sinners reconciled:
Joyful all ye nations rise,
Join the triumph of the skies,
With the angelic host proclaim,
Christ is born in Bethlehem:
(Refrain:)
Hark! the herald angels sing
Glory to the new-born King.
The Words
Written by Charles Wesley (1707 - 1788), founder, with his brother John, of the Methodist movement. Between them they wrote many thousands of hymns. This one was written in 1739. The original first line was: Hark, how the welkin2 rings - but George Whitefield, an evangelical Calvinistic Methodist colleague of Wesley, changed the words to those that are now used. Wesley protested, but Whitefield's version stuck.
The Music
The music to 'Hark! The Herald Angels Sing' is from the second chorus of a cantata by Felix Mendelssohn (1809-1847), written in 1840 to commemorate Johannes Gutenberg, regarded as the inventor of printing from movable type.
Charles Wesley's son Samuel was a friend of Mendelssohn. Like Mendelssohn, Samuel Wesley (not to be confused with his son, Samuel Sebastian Wesley, another highly gifted musician) was a child prodigy of a composer, and had written an oratorio by the age of eight. Unfortunately, when Samuel was 21 years old he fell into a hole in the road, was incapacitated for seven years, and had mental problems off and on ever afterwards.
In 1855, after both Wesley and Mendelssohn were dead, it was Dr William H Cummings, a tenor singer and later Professor of singing at the Royal Academy of Music in London, who put the words and music together to make the hymn or carol we know today. He did this in spite of evidence that neither Wesley nor Mendelssohn would have approved: Mendelssohn had made it clear that his music was for secular use, and Wesley had specifically requested slow solemn music for his words.
Other Popular Carols and Songs
'Ding Dong! Merrily On High'
Words by George Radcliffe Woodward, translator, editor of Songs of Syon (1904) and other hymn and carol collections. The music for 'Ding Dong! Merrily On High' is a French dance (1581) called 'Bransle de l'Official'. A Bransle is a dance similar to a gavotte or bourrée. In Shakespeare it is called a Brawl. Also known as Branle, Brantle etc.
'We Three Kings of Orient Are'
This American carol is often thought to be much older than it actually is. The words and music to 'We Three Kings of Orient Are' were written in 1857 by John Henry Hopkins (1820 - 1891) as part of a Christmas pageant for the General Theological Seminary in New York City. Hopkins went to New York to work as a reporter and to study for a legal career, but instead he entered the General Theological Seminary, where he graduated in 1850 and became the seminary's first music teacher (1855-57).
'Jingle Bells'
The words and music of 'Jingle Bells' were written in 1857 by James Pierpont for a Thanksgiving programme at his church in Boston, Massachusetts. James was the son of the pastor of the First Medford Unitarian Church in Medford, Massachusetts.
One story relates that, having written the song, he went to the home of a Mrs Otis Waterman, who owned the only piano in town, to play the tune. She is said to have exclaimed that it was a merry little jingle, and that is supposed to be why he called it 'Jingle Bells'. Another version suggests, however, that it was first published in 1857 with the title 'The One Horse Open Sleigh', and that the title was changed to 'Jingle Bells' two years later by popular demand3. There is also a claim that the song was not written in Medford, Massachusetts but in Savannah, Georgia, where Pierpont was living at the time and where it hardly ever snows.
Pierpont's nephew was the famous banker, financier and art collector JP (John Pierpont) Morgan.
Traditional English Carols
Carols whose words and music are anonymous or Traditional English (of which there are hundreds) include:
Word Sheets
The words of all these and many other carols are available online, free of charge, for use at home, school or church, courtesy of the Oxford University Press.
1But which came first - the perdrix or the pear tree?
2Heaven.
3'Jingle Bells' is of course not a carol. It is a purely secular song which does not even refer to Christmas.
4 Not 'God Rest Ye, Merry Gentlemen' - spot the difference?