Hello Sir!!!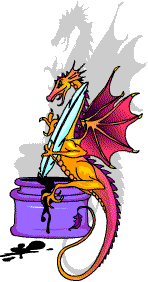 Or madam. Or whatever.
So...
...after reading H2G2 for several months, and after a certain amount of prodding from my boyfriend who is rather... prolific

, on here, I finally signed up as a Researcher.
However, wanting to stick my nose in more than just being picky about people's entries in the Conversations and Peer Review, I soon became a sub-editor (see 'Volunteer Badges' over to the right,


!!)
H2G2 writings

Solo Entries
I'm not exactly prolific in the solo entry department, as subbing and RL takes up much of my time, but I'll keep plugging away and, who knows, maybe one day I'll attain the coveted 25 entries badge!
Collaborative Entries
A few other entries also have my name on them (apart from the ones I've subbed, of course):
Other Stuff
I won the Christmas poetry competition (Christmas Prose and Poetry) 2004 with 'A Cat's Christmas'.
Helpful links
For writing and editing entries:
Interesting places to visit:
Other useful info:
Me
Well, I live in the UK, in the Oxfordshire town of Abingdon with my boyfriend and my


. Shame there isn't a smiley for a very fat, one-eyed black cat and a very dippy short-sighted black and white cat, but there you go.
I mostly fill my time by performing in a drama group and an amateur operatic group. Recent shows include Half a Sixpence and Twelfth Night, which I've moaned about / discussed / enthused over (delete as appropriate) in my journal. I also study Bach flower remedies, and attempt to clicker train my cats and beat my boyfriend at board games (not at the same time...).
I try to stay fit by going to the gym and doing Tai Chi, but the amount of chocolate I eat probably negates any good work I do.
That'll do for the moment, I reckon.
One more thing...
(8 x 7) / 2 + 1 x (6 + 8) = 42
Apparently...
Messages left for this Researcher

Posted
Conversation Title

Latest Post

Latest Reply

No Posting

No Posting

No Posting

No Posting

No Posting
Title

Status

Created

This user has no Entry subscriptions
Most Recent Approved Entries
Disclaimer
h2g2 is created by h2g2's users, who are members of the public. The views expressed are theirs and unless specifically stated are not those of Not Panicking Ltd. If you consider any Entry to be in breach of the site's House Rules, please register a complaint. For any other comments, please visit the Feedback page.
This user has no Bookmarks