Soup Recipes
Created | Updated Jan 3, 2019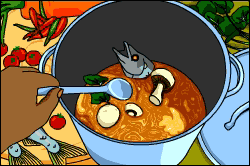 On cold winter nights, there's nothing quite like bowls of hot steaming soup to heat the bones and warm the soul. And if it's a hot summer's day? Then a chilled soup, delicately flavoured, can act like a soothing balm. There's no end to the versatility of soup. If it's hot and chunky, then it's filling and substantial. If it's chilled and light, then it's subtle and refreshing. If we're convalescing from illness, we're given soup. We can also ruin our appetites for the rest of a meal by simply gorging on delicious soup served as a starter. In fact, long ago, we emerged from our own primordial soup in order that we can, today, talk coherently about... soup; lovely, comforting, soothing, healing soup.
Have a look at some of these...
How to Make the Most of the Sunday Roast
If you've had a roast bird of some sort for Sunday lunch (or indeed for any other meal), it's easy to make delicious stock from the carcass. This works best with a good-quality bird ie, free range rather than battery.
Take the carcass of your bird, be it a chicken, duck, pheasant or what you will. Pull off as much of the remaining meat as possible, along with the skin. You can scoff the scraps of meat while you work, or save them to put in the soup later. Pull the carcass to bits. The legs and wings will come off easily, you will probably need to hack through the breastbone with a knife. Put all the bones in a big pan.
It helps to add some flavourings: an onion, chopped into quarters, a carrot or some celery cut into chunks, some bay leaves or whatever sorts of herbs you have to hand. Cover the carcass with cold water and simmer over a very low heat for 2-3 hours. You may have to skim the surface occasionally. You should end up with a rich gold stock. You can eat this as broth, but it's also good to make a thicker soup. To make a basic version of this you will need:
Ingredients
1 Onion, chopped
Olive oil
A couple of potatoes or parsnips, or both, peeled and finely diced.
Method
Sauté the onion in the oil until it softens.

Add the potato or parsnip and Sauté briefly, then drain the stock into the pan with the onion and potato. Bring back to the boil and simmer for about 20 minutes, until the potato is soft. Blend until smooth. (A hand blender is maybe preferable, but a food processor is fine, and in a pinch a potato masher can be quite effective as long as you're careful not to splash yourself with hot soup!)

Season with salt and pepper.
You can eat this as it is, or return it to the heat and add some rice or small pasta, or some other vegetables, perhaps cabbage. This is also the time to add the scraps of meat from the carcass if you like.
This method is also how Chinese people make most of the soups to accompany their meals; by bunging a chicken carcass (or whatever) in a pot of boiling water. You get your stock then add to it all those lovely pickled mustard greens or whatever else it is you're having that night. You can even apply the same 'boil the carcass' approach to making Thai soup; once you have the stock prepared, stick in loads of chillies and lemon grass and coriander, and so forth. Marvellous for clearing the sinuses.
Turkey Soup and Dumplings
Ingredients
You can utilise your turkey leftovers after Christmaslunch or even buy turkey drumsticks which are huge and very cheap. If you have any leftover sliced turkey meat add it after you've boiled the carcass and taken the meat off of the bones.
Method
Boil the turkey carcass for about two hours, add salt and freshly ground black pepper.

Add herbs, preferably fresh.

Add some pearl barley after the first hour, just a handful or so. Drain the liquid from the carcass and pick the meat off of the bones.

Now add the sliced meat (if you have some).

Add chopped carrots, swede and turnip to liquid.

Cook for 20 minutes.

Make dumplings with suet and self-raising flour. Add them and cook for 30 minutes on stove.

Add sliced leeks and a handful of frozen peas.

Serve with a loaf of fresh white or brown bread.
Carrot, Onion and Lemon Soup
Ingredients
One and a half pints of vegetable stock
1 Carrot finely chopped
1 Small onion finely chopped
2 Bay leaves
2 Sticks of celery chopped
Salt and pepper (a pinch of each)
A sprig of thyme
Method
Add all this to a saucepan, bring to the boil and then simmer for 20 minutes.

Add the scraped rind of a lemon (just the yellow part) to the soup, along with half the juice of a squeezed lemon (all you Led Zeppelin fans are now humming, no doubt...).

Serve straight way with a garlic roll/stick.
It's fabulous.
Tom Randall's Granny's Chicken Soup Recipe
Tom Randall was a contributor to MadForMountainbiking. I don't know who his granny is but I've tried the recipe a few times after cold rides home and it's great. This recipe is reputedly very good for your immune system - something to do with the high zinc levels.
Ingredients
Quarter of a chicken
2 Pints water/vegetable stock
1 Large leek
1 Onion
Half a cup of round rice
Method
First, boil the chicken for an hour on a very low heat with salt and pepper. Remove the chicken, then add the leek, onion and rice and boil for another 15 minutes.

The chicken meat can be chopped and added to the soup if you wish. It's always guaranteed to get rid of a cold.
Artichoke Soup in Microwave Oven
This recipe is for four persons:
Ingredients
400 g of Artichokes
1 Tablespoon of butter
75 cl of water
1 Stock cube
1 Can of crushed tomatoes
Salt and black pepper
Method
Peel the artichokes (Jerusalem artichokes) and put them in water to prevent them from going dark.

Put the butter in a deep pot, melt it on full effect for 1 minute.

Slice the artichokes and put them in the pot, allow to fry on full effect for 5 minutes.

Meanwhile, boil water and stock cube in a pan on the stove.

Pour soup into pot, let it cook on full effect for approximately 12 minutes.

Pick up artichokes and mash them, then add to soup together with crushed tomatoes. Stir, add spices, cover pot and allow to cook on full effect for 5 minutes.

Serve with bread.
Acini de Pepe or Pasta del Bambino (Baby Pasta)
This was imported from Calabria. Even though astute observers will note that the name refers to peppercorns, it is not spicy, but rather a Mediterranean version of chicken noodle soup, referring to the type of pasta used (you may never eat chicken noodle soup from a can again).
The quantities below are for one or two people to eat off for a whole day, or to feed a family one meal, made without meat, in accordance with the traditional lifestyles of Calabresos, Basilicanos, Italo-Romani, Greco-Italians, and other such colourful folk from the south, and probably Sicilianos and Corsicanos to boot.
Ingredients
3 cups (710ml) Chicken Stock (bouillon is good enough; canned really isn't)

1/2 cup (118cc) Acini de Pepe (pasta). You want it to be mostly broth, and a little dry Acini de Pepe makes a lot of cooked Acini de Pepe.

2 Tbsp. (30ml) Butter

1 Egg (optional)

Salt to taste - and lots of it if the dish is to retain its authenticity.
Method
Bring chicken stock to a rolling boil. (Or bring water to a rolling boil and dissolve bouillon cubes, if you're taking that route.)

Add the pasta and butter

Add enough salt to make it as salty as you can stand.

Cook until pasta is al dente (firm to bite).

If desired, add an egg and scramble with wire whisk.

Continue cooking (should be less than 10 minutes) until pasta is soft.
Serve hot, with sides and toppings as desired eg, more salt? grated Parmesan cheese (or grated Romano or Asiago), freshly ground black pepper (the real acini de pepe), paprika, croutons and hot Italian bread!
My Mum's Soup Recipe!
When I was little and it was cold you could be sure my mum would have a steaming pan of bean broth on the hob. Before you turn your nose up you really have to try it! Deposit in a large pan, 1 tin of baked beans, 1 tin of chopped tomatoes, half a pint of vegetable stock, a good pinch (depending on preference) of mixed dried herbs and simmer until heated through. Serve with buttered toast and cheese on top. Easy. When I first moved out, this was great as it costs next to nothing and you just add more of the above ingredients if you have loads of people round!
Creamy Leek and Potato
This soup is best served with thick, fresh white bread (not that nasty, plastic, sliced stuff, but real bread from a bakery rather than a supermarket) smeared with cold butter (again, not a nasty butter substitute, but the real, full fat thing) straight from the fridge.
Ingredients
Finely sliced white parts of 2 or 3 leeks
1lb Potatos, peeled and cut into medium size chunks
Loads of butter (1.5 oz)
Cream
Parsley
Salt (lots, this soup should be salty)
Method
Melt the butter, add the leeks and cook (slowly!) until the leeks are soft.

Now put the potato in, 1.5 to 2 pints of water (depending on how thick you want it) and equal quantities of salt and sugar (to taste).

Bring to the boil and cook at a fast simmer until the potatoes are soft (about 25-30 mins). Now use a food processor to turn it into a uniform, thick liquid.

Add the cream and finely chopped parsley.

Serve hot, lukewarm or cold (surprisingly, the soup tastes good at all these temperatures).
You can vary it in the following ways: by adding 3 finely diced carrots with the leeks at the beginning; or adding 1lb roughly chopped tomato after the leeks are softened and let these soften a bit before adding the potato.
Tomato and Lentil Quick Soup
A very easy and quick soup, from store cupboard ingredients (provided you have a tin of tomatoes and some little orange lentils in your cupboard).
Ingredients
One tin of chopped tomatoes
One tinful of water
Two handfuls of lentils
Method
Add all the ingredients together in a pan and simmer.

Add flavours - salt and pepper, a teaspoon of mixed herbs, fresh basil and or a spoon of pesto. Or a teaspoon of curry powder. And/or paprika. Or a bit of marmite.

After about 15 mins simmering the lentils should be cooked.
One thing; when making lentil soup of any kind, it's best to add salt after cooking the lentils, because otherwise they don't seem to cook properly.
Cream of Crab Soup
This is my mom's recipe. We would often steam blue crabs during our summers on the Chesapeake Bay (Maryland). When the feast was over she would make this soup out of the remaining crab meat.
Ingredients
1lb Blue crab meat
1 Vegetable bouillon cube in 1 cup boiling water
1/4 Cup chopped onion
1/4 Cup butter
2 Tbsp flour
1 Tsp salt
1/4 Tsp celery salt
1/8 Tsp paprika
1 Qt milk
hot sauce to taste ( just a little)
parsley flakes for garnish
Method
Cook the onions in butter.

Add seasonings and then the crab meat.

Gradually stir in milk and bouillon on a medium heat.

It's done when it coats the spoon.
Chinese Soup
As you're probably already aware, Chinese soup is almost always clear. Another interesting thing is that we don't eat it as a separate course; soup is eaten together with the rice and all the other dishes, sometimes poured over the rice itself. In my family at least, drinking water etc, at the table is frowned upon on the grounds that that's what the soup's for! Here follows my favourite soup recipe; it's called Hokkien Mee, and as far as I know is the preserve of the Hokkien Chinese people on the island of Penang off the coast of West Malaysia. (Note: the Hokkien originally came from the Fukkien province of China, and 'mee' just means 'noodles' in the Hokkien dialect.)
Ingredients
For the soup base, you will need:
150g Lard or similar fat
200g Ground chillies
300g Prawns, boiled in 4 cups of water and shelled
300g Pork ribs, cut into 1 inch pieces and boiled in 4 cups of water
Sugar
Salt
Now, for the 'mee'... you will need:
300g 'mee' (use spaghetti - it works pretty well)
300g 'beehoon' (probably known to most of you as 'rice vermicelli'; these are extremely fine, hair-like noodles that can be bought dried in bundles from most Oriental food shops)
300g beansprouts
Method
For the soup base:
Heat the lard or fat and fry the chillies. Remove half of them (you'll sprinkle these over the top at the end).

Put in the prawns, the pork, the sugar and the prawn stock. Bring to the boil, simmer.

Remove the prawns and the pork ribs, then add the pork stock.

Dry fry the prawns (just to dry them out a bit) and then slice them in half lengthways, rather like a fossil ammonite.
For the soup 'mee':
Boil all of the above separately. When they're done, put a portion of each into a bowl, together with some of the pork ribs and the prawns, then pour the soup over the top.

Now you can sprinkle the chillies from earlier over your bowl, together perhaps with some very finely sliced, fried onions or shallots (these can be bought in pots ready-made from many Chinese supermarkets) or with a sliced boiled egg.
To close, a nice Chinese old wives' tale: it is said that if a girl is overly fond of soup, it will rain on her wedding day. Believe me, I've heard this too many times...
Borscht
In Russia each family has its own way to make Borscht. It is an extremely versatile form of soup, typically including the following ingredients in an amazing lot of stoichiometries (that is the part of chemistry devoted to amounts of stuff you mix together):
Ingredients
Cabbage (1/2)
Red Beet (2-3)
Onion (1-3 entire)
Potatoes (2-5 depending on size)
Salt (ad gustum)
Garlic (ad gustum)
Method
Peel beets and grate coarsely. Place into 8-quart pot with water to cover.

Add everything else and some spoonfuls of sunflower oil.

Bring to a boil, then lower flame to simmer until soft (approximately 1 hour).

Serve warm or cold, with or without cream.
Variations include making with the following: sliced bell pepper, tomatoes, carrots, boiled eggs, lemon juice, meat, fish. Make sure the soup looks red and add loads of spices. Eat with pickles, bread and vodka.
Second: The Russian space programme was way better developed when it came to space permanence - and so was their space-kitchen. I learned from a Russian friend who worked in the Russian space programme that people drool over the tube-borscht. They even fight to get their hands on such a tube-borscht.
Turkey Chilli and Cornbread
Need something to do with the leftover Thanksgiving or Christmas turkey? Here's a tasty way to enjoy your favourite bird and warm your bones...
Ingredients
Turkey Chilli:
2 Tablespoons olive or vegetable oil
1 to 2lbs ground or chopped turkey meat
2 Medium onions
2 Chopped green bell peppers
4 (or more) Cloves chopped garlic
4 Tablespoons chili powder
Salt and pepper
30 oz Can peeled and diced tomatoes
1 to 1 1/2 lbs (or 3 cans) Kidney beans
2 to 3 Cups dry red wine
Tabasco sauce or cayenne pepper to taste
Method
Sauté onion, bell peppers, and garlic in the olive/vegetable oil in a Dutch oven or other large vessel until onions are translucent and peppers are tender.

Add the turkey and sauté meat until browned.

Then add the salt, pepper, and chili powder and stir.

Next, in go the tomatoes, kidney beans, red wine, and tabasco or cayenne.

Mix well and simmer on low heat for at least one hour. While this is cooking, make the cornbread.
Ingredients
Cornbread:
1 Stick (1/2 cup) butter
3/4 Cup sugar
2 Eggs
2 Cups flour
1 Cup cornmeal
2 Teaspoons baking powder
1/2 Teaspoon salt
1 Cup milk
Method
Cream butter and sugar together until fluffy.

Then beat in eggs until well mixed.

In a separate bowl, mix together flour, cornmeal, baking powder and salt.

Add alternately with the milk into the butter, sugar, and egg mixture.

Stir until just blended and pour batter into two greased bread pans or muffin tins.

Bake at 400° Fahrenheit for 25 minutes or until golden brown and crumbly.
This bread goes great with the chilli!
Note: the bread pans/muffin tins need to be well buttered beforehand. Also, if you make muffins rather than bread, the baking time is only 15-20 minutes.
Mountain Soup
Mountain Soup is a tasty and absolutely foolproof hot main course recipe. Impress your friends with your laziness and culinary skill!
Ingredients
1 Can meat; braised beef, for instance, or lamb, or steak and kidney pie filling. You can use fish, but stay away from chicken.

1 Can sweetcorn - you can substitute any common pulse: peas, Broad beans, red kidney beans. If you use ordinary baked beans, you should wash off the sauce, which will otherwise dominate all the other flavours and make the whole thing seem like eating a tin of baked beans.

1 Can mushrooms - once again, you can make substitutions. The idea of the third can is to add an interesting flavour or texture to the other two ingredients. Campbell's Cheddar Cheese Soup is a good alternative. So is palm hearts.
Method
Put all the ingredients into a saucepan. Stir them, put on a low heat and walk away. Any time between 15 minutes and an hour later your meal will be piping hot and ready. And that's it.
History of the dish
I call it Mountain Soup, because it dates back to a long weekend when I went up a mountain in Africa (well, all right, the foothills of a mountain) and lived off nothing but this and fruit salad. It wasn't a back-packing sort of weekend, more the kind where you drive a car to a cottage and take the occasional stroll. So carrying heavy provisions wasn't a problem. The cooking facilities were very primitive - just a saucepan and a hotplate.
Sophisticated variations: At one stage I got very skilled at making Mountain Soup, trying out more and more unusual ingredients, until in the small hours of the morning after a party I ended up as part of a group of about a dozen people in a yuppie's flat in Richmond (Surrey, UK). Everyone was complaining of hunger, and I offered to make Mountain Soup. The kitchen cupboard was a delight, and so was the face of the owner of the flat as I put a huge pan on the hob and emptied can after can into it: lobster bisque, palm hearts, scallops, baked beans rinsed under the tap, a dozen cans in all. His anxiety turned into puzzled awe as his guests complimented him on the delicious slop he served them.
Vichyssoise
An entry on soups would not be complete without mentioning this exquisite, delicious, versatile, French, cold soup. The pronunciation is as follows: Vee-shee-so-AHZ. It's sometimes also called Spring Soup, because it's eaten cold to celebrate the coming of the warm seasons... Enough of socio-cultural aspects. Here comes the recipe (which serves approx. for 3-4 people):
Ingredients
3-5 Leeks (just the white part)
1/8kg Shallots
250g Soft potatoes
1.5 Litres of beef or chicken broth
100ml Cream (alternatively: 125g butter and 100ml milk)
Optionals:
Wine (1/2 cup)
Salt and pepper
Nutmeg
Chives
Method
Cut the vegetables into little pieces (cooks faster) and boil them in the broth till they're soft.

Let it cool a little and then mash it all. Cool it down. Now you have a creamy whitish goo.

Add the rest (Butter, Milk, Cream, Optionals) ad gustum and stir well. Put the stuff into the refrigerator, and voilà! (This all can be done in 45 minutes flat). The chives are merely optical decoration when serving.

Eats well with white (cool) wine and baguettes, on the veranda of a mansion or on a picnic by a brook. Sunny days are ideal.
Hungarian Gulyás
This entry would not be complete without the recipe for this fiery, fantastic, red, Hungarian soup. It is pronounced: Goo-LAHSH. Serves approximately 6-8 people:
Ingredients
1kg Meat cut in to cubes
200g Onions, in little pieces (5mm)
3 Bell peppers in strips (5mm)
4 Spoonfuls of oil (sunflower is ideal)
1 Garlic clove (hackled)
140g Tomato concentrate
1.5 litres of broth
0.5 litres of red wine
Optionals:
Salt
Paprika powder
Chilli peppers
Pepper
Other spices
Method
Fry the meat well, sear the vegetables and add the tomato concentrate.

Stir it for a while (maybe 30 seconds or so), but don't let it burn too much (otherwise it will taste bitter).

Then add the broth and the wine. Let it cook until the soup has a creamy consistency.

Add optionals ad gustum.
This soup is a heavy one. Eat preferably in the late afternoon, with friends, bread and red wine. One thing to note, though: if you evaporate all the liquid, you are left with a dish called Pörkölt, which is also great but is not a soup.
Smoked Fish
Ingredients
This is a good excuse to pick up a lot of those oddities that always seem to catch your eye when you walk past the fish mongers:
Method
Gently simmer a salmon head in water with a few root veggies (for form), until the meat has fallen off and there is a rich broth - salmon heads are great value. Many supermarkets practically give them away; and they're usually loaded with perfectly good meat... shame to waste 'em, really.

Remove everything that looks nightmarish, included skull and soggy veggies.

Sauté onions and garlic until they are translucent, but not to the point of browning them. Sometimes its nice to deliberately fry a bit extra to the point of cremation, then add them as a seasoning later.

Pour in the salmon stock.

Add an assortment of smoked fish (trout, eel, anything goes...), cut into bite-size pieces. Use a variety of things to make it interesting. Leave the skins on... That's the best bit!

Add a generous amount of cayenne... to taste. A gentle spiciness is what we're after. We don't want to make the stuff really hot.

A dash or two of dry red wine rounds things off, as long as its done in the grand style of the great Keith Floyd.

Simmer gently for a good long time.
Two final tips: never measure anything - it takes all the fun out of it; and never let your stock boil, or it will turn into bilge water. Bon appetit!
Sausage Gumbo
This is a soup so thick that it's almost a stew:
Ingredients
2 Cups chopped onions
1 Cup chopped green peppers
1 Cup chopped celery
1 to 2 Chopped cloves garlic
1-1/2lbs kielbassasausage, (a spicy Polish sausage) or other smoked sausage, in small pieces
1/2 Cup canola or corn oil
1/2 Cup all-purpose white flour
4 Cups chicken stock
Cayenne pepper to taste
White rice
Filé powder (powdered sassafras leaves)
Method
Brown sausage pieces in large pot (preferably cast iron) and set aside in separate bowl. Put chopped vegetables ('trinity') and garlic in the large pot.

Heat a small pot (preferably cast iron) until its very hot. Add oil and head until its very hot.

Then add flour. Stirring constantly with a wire whisk, watch as the roux changes colour; watch carefully - it changes fast! As soon as it's chocolate colour, pour it into the vegetable mix.

Cook the vegetables on medium heat (you might need extra oil) until they are getting soft. Add chicken stock very slowly, pausing often to stir it in well; this makes a smooth soup. Add the browned sausage and season with cayenne pepper to taste.

Simmer for at least half an hour; more is okay. Serve in bowls or soup plates with a ladle of white rice. Sprinkle filé powder around the soup. It's also nice to have available Tabasco sause (for those who like it extra spicy) and sherry.
I make something almost exactly like that, but with beef (or deer) stock instead of chicken, and it has okra in it too, sometimes tomatoes as well.
Comfort Soup from Canada
Here's a soup to help you through the winter. I'm a Canadian and believe me , during the winter months, we need all the comfort we can get! The recipe. Take about 3 tablespoons of butter, and a finely chopped medium sized onion and sauté until tender. Add some thyme (as much as you want). Stir for about 1 minute. Then add a whole bunch of mushrooms which have been chopped in a food processor. Cook until mushrooms are tender. Then add about 3 tablespoons of flour, cook to brown the flour, stirring constantly. Add coarsely ground pepper, stir again. Then add a good shot of brandy or sherry to de-glaze the pan.

After you have scraped up the browny bits, add about 3 cups of chicken stock, stirring constantly. Cook for a while to thicken slightly then add some chopped spinach and a dash of cream. You may also add some whole pepper corns at the first stages of cooking if you like that crunchy flavour. I cook this often in order to stave off the frost and if I want to think of exotic places, I use wild mushrooms instead of your average button variety. Portebello work beautifully!
And Finally... Goon Show Mulligatawny Soup
What?
Actually, there's an excellent h2g2 entry about the famous loony British TV show, The Goon Show which does a remarkably fine job of suggesting why mulligatawny soup without the Goons is like fish and chips without salt and vinegar, newspaper, and several pints of best bitter.
Anyway, back to the recipe itself. Mulligatawny soup is an act of compassion by Indian cooks created for sun-baked Englishmen who really missed a bowl of soup. No other soup can evoke the Raj with one sip and the Goons with the next.
Method
Skin a chicken (a dead one), and remove most of the meat from the carcass.

Simmer the carcass in water with a few root veggies, a few cardamom pods, and a stick of... what's that stuff called?... cinnamon. Keep the heat low, and let stock form over several hours. Don't let it boil.

Read some Goon Show scripts.

Eventually, chop fine and sauté some onions, garlic, ginger, and green chillies until the onions are tender and translucent... but not brown.

Add some whole coriander and cumin seed and some ground turmeric, and fry for a minute or two. Add a drop or two of water if things start to look dry.

Add the chicken, which you should have cut up long ago, but didn't because you were absorbed in the Goon Show scripts. Work quickly, but don't cut yourself. Fry (the chicken) for a minute, until it is slightly browned on all sides.

Add the stock, which someone may have thought to strain, but probably didn't. Better yet, add the other ingredients to the stock (which should probably have been strained). That way you can say in a high, weedy voice... 'It's fall-en in the wa-ter...' (Refer to Goon Show script. Any of them.)

Simmer gently for an hour or so, until the chicken is cooked.

Serve hot in a big bowl between a pile of papadoms and a picture of Spike Milligan.
Confused? Good.