Great International Breakfast Dishes
Created | Updated Nov 14, 2008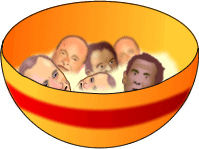 As you tuck into your sugar-coated cornflakes, muesli or 'Ulster Fry', have you ever pondered what kind of breakfast people eat elsewhere in the world? Have you ever visited another country and been surprised and delighted to be offered something you'd never expect to eat first thing in the morning? Which country traditionally serves the healthiest food for breakfast, and which cultures have a menu that could at best be described as 'comfort food'?
These are the questions we asked you and below is the truly phenomenal and global response given by you, the h2g2 Community.
Africa
Benin and Nigeria
Western Africa is not renowned for its cuisine, which may be an oversight. In Benin and Nigeria people use their greatest resource, the sea, for their breakfast. The main meal of the day is usually some sort of fish or crab stew served with ground manioc (also known as cassava). Care has to be taken when preparing manioc as in its raw state this tuberous root has traces of cyanide. Lackadaisical preparation could mean that the first meal of the day may well be your last...
Asia
Hong Kong
Hong Kong taxi drivers like to start the day with a bowl of noodles, perhaps with pork ravioli and dumplings.
Congee
My parents are from Hong Kong and I remember they used to eat congee (watery rice porridge) with shredded dried meat (pronounced 'yook soong' in Cantonese) or Chinese sausage ('lap cherng') and pickled leeks or other pickled Chinese vegetables for breakfast. I haven't lived at home for a while so I don't know what they eat now.
Southern India
If you're in the southern part of India, brekkers is typically idli. It's like a rice pancake, except that it's steamed as compared to typical pancakes, which are fried. They're eaten with some coconut paste and spiced up with chillies.
Masala Dosa
This is what they eat in Southern India and it is mind-bogglingly marvellous! Usually served in such vast portions that it would certainly keep you in a state of well-stuffed bliss for the rest of the day.
Basically, it's a thin pancake (about 1ft diameter) served with a potato-based spicy filling, a mixed vegetable one in a spicy gravy and a yogurt and coconut chutney. If you don't want to go all the way to India to get it, most Indian restaurants which are run by Hindus will serve it.
Malaysian Buffet Breakfast
Having just returned from Malaysia, one Researcher was amazed to see three interesting options available in the buffet breakfast at the hotel:
Porridge with chicken
Beef Curry
Fried spicy noodles
All of these go down very well with cheese omelette and chicken frankfurters.
Laksa
One dish that appears quite regularly on breakfast menus and at hawker centres is laksa. You get it all over Malaysia, although it tends to vary from state to state. For example, in the capital, Kuala Lumpur, you'd get a curry noodle thingy with tofu and long beans and chicken; up north in Penang you'd get white noodles in a slightly Thai-ish sour-ish soup with sardines, pineapples, onions and chilli, and mint. Whereas if you were to go east, you would get vermicelli in a not-so-much-curry-as-chilli, coconut milk-and shrimp-paste soup, with shredded chicken and omelette (oh, and don't forget the lime). The smell is unbelievably good - if your eyes don't water first.
I must point out that in eastern countries like Malaysia, 'porridge' does not refer to oatmeal. Rather it's slightly mushy, watery rice with the general consistency of oatmeal. They're usually served with salted eggs and this local breadstick thingy that is fried instead of baked.
Japan
In Japan the traditional morning meal always includes rice and is most likely to include fish (especially a nice bit of broiled salmon) salty miso (soybean paste) soup and natto. Natto is fermented soybeans - it smells like century-old gym socks, looks like it has been fermented inside a dog which has then vomited it up and has the texture of last month's baked beans with a semi-solid slime that sort of binds the individual beans together into a sticky mass.
It is to Japan what Vegemite is to Australia and grits (see below) are to the Southern US.
South China Breakfast
Breakfast in this region is a bowl of thin flavoursome broth with rice noodles, some marinated beef slices, shallots, garlic (raw, diced, lots) and chilli (raw, diced, lots). It can also be served in a steamer tray laden with dumplings filled with a delicious meat/vegetable/spice combination, deftly made in front of you in the street stall. It is often accompanied by a bowl of wonderfully warm soy milk.
It was fantastically social to eat it among the hustle and bundle of this mass of friendly gregarious earnest people in among the smells of life. Fantastic. They were surprisingly filling and hearty too and kept us cycling through the dough-thick summer humidity for hours.
Europe
The Great British Breakfast
Perhaps Britain's greatest contribution to world cuisine is the Great British breakfast. Here's a run-down of its essential components.
Bacon - many people prefer smoked back, but it must be dry-cured. The way to fry bacon perfectly is to wear no clothing, ensuring that you are cooking at the correct temperature to prevent hot fat spitting all over the place.

Fried bread - this is the quintessential British basis for breakfast, although people are experimenting with potato waffles and hash browns with some success.

Eggs - again, fried is the classic. Some like 'em scrambled, others poached.

Black pudding - it's really hard to get good black pudding these days. Obviously, it must be fried. White pudding is rarely seen in England but it seems to be more a feature of the GIB (Great Irish Breakfast).

Sausages - The secret is not to prick sausages before frying. Classicists favour the bog-standard pork sausage. More avant-garde GBBers, will quite happily go for pork-and-leek, Lincolnshire or whatever else is lurking in the fridge at the time.

Optional extras - Mushrooms (fried naturally), baked beans, and tomatoes (cooked or otherwise).
Obviously, the perfect complement to the GBB is a nice cup of tea.
Lard!
When cooking a Great British Breakfast, you have to use lard.
None of your ruddy olive oil nonsense, leave your low-fat substitute on the supermarket shelf and use lashings of lard. It really does bring out all the flavour of all the food while keeping it all moist. It's lard that makes the bubble and squeak squeak, it's lard that makes those mushrooms glisten and more flavoursome than usual and it's lard that makes fried bread really scrummy. (As an aside, use the lard to fry your bread in after you've used it for bacon/sausages - it absorbs all their flavours.)
Bring on the lard, you know it makes sense.
The Ulster Fry
There are two main differences between the breakfasts of Ulster and England and they are both to do with bread:
Not just any bread is used in the Irish tradition... the humble potato is the essential ingredient in potato bread which is a slim unleavened bread and is far tastier than its trans-Atlantic cousin, the hash brown.

And the second is the soda farl which is a scone like mixture.
Without these two breads no Irish Breakfast is properly dressed. As for the black pudding this was always part of breakfasts at the weekend along with white pudding. Sadly these are harder to find with the loss of many traditional butchers.
Wales
There's more to Wales than stunning scenery, a tough language and a great people - there's also a rather unique breakfast...
Lava bread is usually sold in cans, but on rare occasions my granny would stink the whole street out by making it from scratch! As I remember that involves washing the seaweed more times than fresh spinach, preferably in running water, boiling it for ages, changing the water and reboiling it for ages, then pressing it in a sieve weighted down with anything that came to hand (usually one of grandad's bowling balls). She then rolled it in beaten egg and milk and dipped it in fine oatmeal and fried it with fresh cockles and thick slices of bacon.
Go French
If you always thought that a French breakfast was nothing more than a Gauloise cigarette and a big mug of café au lait then you're very much mistaken. A fresh baguette and croissants with unsalted butter accompanied by an orange juice and chocolate/coffee/tea is the greatest way to start a day.
Magnifique!
Dutch Breakfast
Beschuit (pronounced bah-SCOUT) are pancakes which are spongy to the eye but crunchy and brittle to the mouth.
Also seen in Dutch breakfasts is Peperkoek (pronounced PAY-per-cook), which translates as 'peppercake'. It is in fact a heavy type of sweet dense cake, stuffed with spices, not pepper. It's relatively sticky and soft and is meant as a breakfast treat, not breakfast as a whole.
In the north of the Netherlands (Friesland, Groningen and Drenthe) there is 'suikerbrood' or sugarbread; this is a strange looking bread with a lot of (little lumps of) sugar. It is eaten only with butter and is very tasty!
German Breakfast
The following is one Researcher's very fond memory of a great breakfast in Bavaria, Germany - the focus of which seems to be the infamous types of German bread:
Each morning someone would pop down to the local bakery and bring back a mixture of freshly baked rolls (some with poppy or sesame seeds on, maybe some croissants or pain au chocolat), then these would be wolfed down with 'fleischsalat' (chopped ham, mayonnaise, gherkins, etc), one of a variety of hams, jam, cheese, or just plain butter. Maybe a boiled egg too. To drink it would be orange juice and coffee or hot chocolate.
If that doesn't set you up for the day, nothing will.
Swiss Breakfasts
Müesli (which seems to be a Swiss diminution of the German word Mus, which means 'mush') is a Swiss invention by one Dr Bircher-Brenner, who appears to be a Swiss Dr Kellogg (the latter would rotate in his grave if he found out what products sold under his name today). Originally, it was made up of apples, hazelnuts, oatmeal and lemon juice. To make it easier to swallow, evaporated milk with sugar was added (since this would not clot when added to the fruits, and it was already preheated in order to avoid tuberculosis).
If muesli doesn't float your breakfast boat, then how about the following?
I still have fond memories of a holiday in Switzerland 20 years ago, when I discovered the joys of toast liberally spread with Nutella chocolate spread, and mugs of thick sweet milky hot chocolate. What a fantastic chocolate rush... and a great way to start the day before careering down the ski runs.
Italian Breakfast
Breakfast is not a big deal in Italy. Most people just roll out of bed, gulp down some coffee and go to work. The traditional breakfast usually includes coffee (either black or with milk ) and biscuits, croissants or other pastries. Variations may include fette biscottate (which sort of translates as 'biscuit slices' and is somewhere in between bread and biscuits) and jam. At any rate, it's a sugar fix.
A lot of people have breakfast at a bar. Bars in Italy are not the same as bars in, say, the United States. They are usually open during the daytime and serve mainly beverages and snacks. Bars are places to drop in for espresso or cappuccino and a croissant.
Scandinavian Breakfast
If your travels take you to the colder climes of Europe, then you can expect to come across variations of the following:
Breakfast in Scandinavian countries is the most impressive and nutritious of the continent. The central food is usually rye bread with a high nutritional value, which is combined with several fish products (the more so in Norway). The most common cheese in Norway is some kind of goat's cheese, which is not really cheese, since not being made by bacteria, but by the caramelisation and clotting of goat's milk and has an appearance like plastic explosive. The taste is like a mixture of caramel and goat's cheese (as expected).
In Finland, the Karelian Piiraka (a rye pie filled with rice pudding) and egg butter and blini pancakes, are two of the finest things you could ever have for breakfast.
Breakfast in Portugal
In Portugal, a lot of people have cakes with coffee for their breakfast. There is a variety of different pastries and all are eaten with mini utensils. Some folk have cereal and fruit, and croissants with ham or cheese are popular.
Vegetarian Breakfast in Russia
Vegetarianism and veganism can be a real puzzle to hosts in those countries where the luxury of choice in diet is lacking. One Researcher was lucky enough to have a hostess who prepared the following:
When I spent a summer in St Petersburg, Russia, my hostess was quite perplexed by my vegetarianism and cast about for a suitable breakfast. What she concocted, and what I rather came to enjoy, was cabbage topped with macaroni topped with fried eggs topped with melted cheese.
Slovak Breakfast
Below is one Researcher's breakfast experience in another former communist country that came in from the cold:
I am not Slovak, but have travelled lots in that country. Breakfast surprised me since it looks more like what I am used to seeing as lunch in the States; sliced ham, cheese, peppers on a roll. I don't eat meats so I usually slide the ham into a napkin so as not to upset my host/hostess. Some of the older folk in Slovakia seem to think there is something terribly wrong with people who don't eat meat, or, worse, that they are making some sort of statement about the quality of meat if they decline it. Anyway, there was usually yogurt and muesli offered, too, so I didn't go hungry. And tea is sweet but I don't recall it being at hot as I usually like it.
Spanish Breakfast
... is toast. What's the big deal? Well, first of all the coffee is wonderful and there are about 15 different sorts of bread to choose from for your toast. And once you have chosen your bread then you decide on what you will have on your toast:
Butter
Jam
Olive oil
Olive oil and tomato
Olive oil, tomato and jamon serrano
Jamon serrano
(cured ham) with either butter or olive oil
Cooked ham
Ham and cheese
Manchego cheese
Pringa (a sort of mix of various sausage meats)
Morcilla Blood sausage
Sliced chicken breast
Brie cheese
Lomo de Jerez (rolled loin of pork cooked with spices)
Pâté
Smoked salmon
Chorizo
Tortilla
And all the while, you are standing at a lovely wooden bar and the barmen are running around like mad, but very cheerfully bantering amongst each other and with the customers. It is truly a wonderful way to start your day. As much for the very cheap and good toast and coffee as for the very human and charming ambience.
North America
Oh Canada!
In the lumber camps of The Canadian Shield around the turn of the century, to speak during mealtimes was to be expelled from the dining hall. As there were always more men to feed than room to feed them, the idea was to carbo-load fast and make room for the next man at the table. Thus we come to the two great culinary contributions of Canada.
First and foremost is maple syrup. Pour it over pancakes, ice cream or even add it to the tea or coffee. Much easier to come by on the frontier than that fancy-pants store-bought sugar, and tastier too.
What the Canucks call back bacon or peameal bacon is almost nothing like what Americans call Canadian bacon, which is actually closer to canned ham. What is it? Lean, brine-pickled, pork back rolled in cornmeal and then sliced by hand (nice and thick) and pan-fried.
For a day of deforesting the Canadian Shield by hand, you can't do better than a stack of buckwheat pancakes drowned in maple syrup with a hearty side of peameal bacon. The thing to remember is that it must be real maple syrup and not 'maple-flavoured sauce' since the former is an aromatic, complex flavour which brings out the flavour of the bacon. The latter is disgustingly sweet and absolutely foul. Always read the label carefully before purchasing.
You get the true essence of a Canadian breakfast while camping at a Canadian Shield lake in the summer. To set the scene, it's a pine forest, you've been up since dawn and out fishing for four hours, with just a couple of slices of toast, toasted on the camp fire, and two cups of strong coffee in your stomach. Light the Coleman stove, get out two cast iron frying pans and set to work.
Breakfast is two or three fried eggs each, bacon, fish (catch of the day - perch, pickerel, jackfish or bass), fried bannock with real maple syrup, fried potatoes if there's any left from supper last night, toast, coffee.
Do the dishes, tidy up the camp, crawl into the tent camper and doze the afternoon away waiting for evening fishing.
A Canadian Trucker's Breakfast
And for those on the road in Canada, you can expect the following:
When I was in Canada on holiday some years ago I had a 'trucker's breakfast' in a restaurant one morning. I must have been about 12 but the thing was enormous. You got a huge fry-up with multiple pieces of bacon, a good few eggs, loadsa 'hash browns', etc but the centrepiece was a stack of five pancakes. Now I was expecting English-style, thin and crispy pancakes, but these were thick American, gloopy ones, covered in maple syrup. The whole thing was quite disgusting, but to my credit, I ate it all...
Jamaica!
Down in Jamaica, it's chicken and breadfruit in the morning. And in the afternoon. And at night.
Southern US Breakfasts
Breakfast is really the most important meal in the Southern United States, and whether or not someone goes out and runs cattle and mends fences in the morning, Southerners will still eat a large, heavy breakfast. Breakfasts normally include:
Large amounts of coffee
Scrambled eggs or eggs done sunny side up ('dippy eggs')
Bacon
Ham
Sausages
Biscuits (American biscuits are like little breads)
Plus one or more of the following:
Grits
Cereal
Biscuits and sausage gravy
Omelettes
Fruit
You won't be hungry for hours (or days!) if you do a Southern breakfast right.
Breakfast in the Big Apple
There is nothing that starts your morning off right like a fresh, warm bagel from a New York deli, with butter or a thick schmear of cream cheese. Pumpernickel is the best. Chase it with chocolate milk and you're good to go.
The 'Efficient' (Lazy) American Breakfast
For those Americans who don't skip breakfast altogether, their morning meal is usually minimal. While it's true that more rural parts are used to a hearty breakfast, that has become uncommon in modern, urban America. A traditional lazy American breakfast is:
One bowl of cereal and/or a more condensed 'milk and cereal bar'.

Coffee, but sometimes either milk or orange juice. Orange juice now comes in more travel-friendly cartons. Some choose caffeinated beverages.

Maybe a convenient pastry or pocket. More and more American foods seem to be manufactured and made in pockets.
While the above are the staples of the average American breakfast, there are many more occasional foods that can accompany the main meal of the day:
Manufactured muffins, sometimes called mini-muffins, come in a plastic pouch and are prone to taste oddly moist.

Waffles in packs are very convenient for a lazy person, and as a general rule, lazy people tend to be patient.
South America
Costa Rica
Gallo pinto is made up of the same stuff that makes up all of the meals in Costa Rica: beans and rice. With the addition of a little seasoning, the beans and rice are mixed up and fried. Very few breakfasts compare to a hearty meal of gallo pinto accompanied with hot chocolate or agua dulce (water with processed sugar cane).
Argentina
Breakfast in Argentina is strong coffee, croissants (media lunas) with rich butter or dulce de leche (a little too sweet for the uninitiated).
1It rhymes, we tell you, it rhymes.