Great Islands
Created | Updated Jun 18, 2015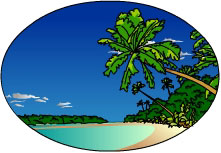 With the advent of summer in the Northern Hemisphere, and winter in the south, many of us are planning our escapes to those corners of the world that promise sunshine, sand and sea with a little bit of history thrown in. Some of the most magical of these destinations are islands, those rocky outcrops that have served history well and now sell their past to the tourists whose annual migration is so vital to their economic future.
We asked you for your favourite island destinations and below is a wonderful mixture of fact and recollections that conjur up the sights, sounds and smells of some of the greatest islands around...
Mackinac Island
Mackinac Island lies in between Lake Huron and Lake Michigan. No automobiles are allowed on the island, only horse, bike or foot traffic is permitted. The buildings and houses - mostly Victorian mansions - have remained unchanged for 150 years. It is very expensive to stay on the island (about $150 to $700 US per night) but well worth it. The island was the fur trading capital of the New World. Favorite island activities include mountain bike riding, wild flowering and drinking Bell's Oberon Ale.
Orkney
Orkney is a collection of islands off the north east coast of Scotland. Orkney means 'Seal Islands' in Norse, so calling them the Orkney Islands is a bit redundant.
Not all the islands are inhabited, and some are private. If you travel to Orkney (either by boat or plane), you'll arrive on the main island. There are two main towns here - Kirkwall (the capital) and Stromness. Ferries arrive mainly at Stromness, whereas planes land at Kirkwall Airport.
The currency used is British Pounds, and prices are what you'd expect for the UK. Accommodation is relatively cheap (especially out of the main tourist season), and there are lots of hotels, bed and breakfasts, self-catering cottages, campsites, etc.
Travel around the island can be accomplished in a number of ways. Public transport can be limited, especially in winter, so a car or bike may come in handy. The mainland at least is relatively flat, so cycling shouldn't be too strenuous. To visit the other islands, you'll need a boat. There are lots of ferries between many of the islands, and you can also fly between Westray and Papa Westray.
There are a variety of things to do. There are a vast number of historic (and prehistoric) sites, many of which are worth a visit. The most famous include Skara Brae (a prehistoric village) and Maes Howe (a prehistoric tomb). The Earls and Bishops Palaces in Kirkwall are also in good condition, and very interesting.
There's also Scapa Flow, where the German Fleet was scuttled at the end of the First World War. Diving down to the wrecks is popular. You could also go for a drive across the Churchill Barriers, built to prevent the Germans sneaking in and blowing up British ships at dock there.
There is a great deal of wildlife, especially seabirds and seals, and lots of nature reserves.
Bermuda
Bermuda is the oldest self-governing British Colony and is located 600 miles due east of Cape Hatteras, North Carolina. It is a fairly common assumption that Bermuda is in the Caribbean, which is not the case. But the Gulf Stream tempers the weather resulting in winter lows of 65°F with summer temperatures hovering around 85°F.
It's also gorgeous. Bermuda is 21 square miles consisting of 180 named islands.
Things to like about Bermuda:
Pink sand beaches
Tropical flowers
Moongates in the gardens
Goslings Black Seal Rum
Catamaran rides
British character
The charming town of St George's
No rental cars
Things not to like about Bermuda:
Extremely high cost of living.
The duty free shops don't offer the bargains that they used to.
Manhattan Island, New York
Where to stay - There's a new Howard Johnsons in the Lower East Side which is popular for many tourists. However, most hotels are in the area around Times Square and the museums. Shop around, because there is fierce competition between the hotels

A little bit of history - Settled by the Dutch. Sold to the English. Won by the Americans. Settled by everybody.

What the food is like - Like everything, really! For something truly 'New York', though, try a deli. Katz's Deli on the Lower East Side is a great place to start. And street food, of course - hot dogs, souvlaki, and hot pretzels.

What the weather is like - Nice in the spring and fall. Wet in the winter. Humid in the summer. But it's really not important!

How much money you can expect to spend - Anywhere from very little (you can do a lot for nothing at all) to an extraordinary amount.

What activities there are - Museums (art and historical). Famous sights. People watching. Shopping.
Katz's deli has a long history and when you go in you'll see that the waiting staff are wearing t-shirts with the motto 'Send a salami to your boy in the Army' referring to war time mothers worrying about their sons diet while they were fighting abroad.
The walls are decorated with pictures of the rich and famous and above one seat there is a plaque that tells the diner that this is where President Clinton sat and it then describes what he ordered. Boy can that man eat.
You collect a ticket on your way in, go to the counter and order and take your food (the sauerkraut is divine). The servers mark your ticket and you give this to the cashier on your way out. As you leave, look for the presidential letters which adorn the windows.
Katz's has sent a salami to every US President for years, and every President has replied with a polite letter of thanks.
Aahh Manhattan.
The Isles of Scilly
The Isles of Scilly are an archipelago 28 miles of the coast of Cornwall - be warned - don't ever call them the Scilly Isles. There are five inhabited islands: St Mary's, Tresco, St Martins, St Agnes and Bryher, and numerous uninhabited ones - some large, such as Sampson (once inhabited, but now with no fresh water), and Annet (a bird sanctuary) and others which are just oversized rocks.
You can get there by boat (from Penzance, Cornwall to St Mary's), helicopter (Penzance to St Mary's or Tresco) or tiny wee plane (Lands End, Newquay and Exeter to St Mary's). All the inhabited islands have at least one small-ish boat (or a small fleet of them) which provide the links between the islands, particularly for the tourists (most locals have their own boats, logically enough!. They also do other trips - to see the seals on the Eastern Isles, or out to the Western Rocks to see seals, puffins and the Bishop Rock lighthouse (be warned - the latter trip on a rough day is not for the weak of stomach!). In the summer there are gig racing trips a couple of times a week.
The islands are beautiful - milder than mainland Britain, although the sea doesn't quite make it to 'warm'. St Mary's is the largest island, and has all the local amenities (and the only cash machines), Tresco has the famous Abbey Gardens - watch the BBC's old Voyage of the Dawn Treader to see what they look like!), St Martins has the best beach - Great Bay, Bryher and St Agnes are both a little wilder on the sides that face out onto the Atlantic - the most amazing sight is to see Hell Bay, Bryher in a storm. It's so easy to while away a fortnight there with a pile of books, taking trips to stroll around the islands - nothing strenuous to be done. You can snorkel, windsurf, dive, or go swimming with the seals.
St Martin's is my favourite island - we've nearly always stayed there. It has a wonderful campsite - just back from the beach, within easy walk of both quays. It has really good facilities - including freezers to store ice packs in, and a stock of old books. The pub there does really good food - and don't miss the bakery at Higher Town - it's fantastic.
St Agnes
One of the great things about St Agnes is that there are absolutely no cars on the small island (which only really has one circular road), making your stay there very relaxed (though there are a few tractors for hauling luggage). The island has a few cottages available for hire, but the best thing to do is to stay on the lovely campsite. The campsite is right next to a beach, and is very communal, meaning you'll make lots of friends there. There's a couple of very small shops on the island, and a farm where you can buy fresh, un-heat-treated milk (ie, straight from the cow). The island is also connected to a smaller block of land full of heather via a sand bar which is covered over by the sea for a few hours each day.
Last time I was there we were finding lots of blue boiler suits being washed up, some in wearable condition, and so it soon became a fashion for all the islanders and tourists to be walking around in them. There were also Barbie dolls (just the plastic bit) and Action Man dolls clothes being washed up, and so there were a lot of Action Men Barbies on display...
One of the big traditions of the Scilly Isles is in shipwrecks (the isles are around a very rocky area of the sea, so historically many ships have come aground nearby). When ships get wrecked near the islands, the locals often pick up some of the lost cargo from the beaches and coastline. This continues to today.
There's a bit of the coast called 'Beady pool' which supposedly is awash with small beads and pearls from a shipwreck. Unfortunately we didn't find any. My cousin did once though...
Scilly Trivia
The Isles are supposed to have once been drawn to the Cornish mainland, but the land bridge vanished when the sea level rose - it's supposed to have been the long lost land of Avalon, where King Arthur was taken after the war with Mordred. Also all the islands, except St Agnes and the Northern Rocks were once joined together, but with the sea level rising the ground between became marshy and then disappeared - at some very low tides you can still get between the islands - quite often between Tresco and Bryher, and very occasionally between St Martins, Tresco, Bryher and St Mary's.
There's an old hermitage and the ruins of a leper colony on St Helens - one of the uninhabited islands - they've done a fair bit of excavating, and there's often boat trips there, with guides who know what they're talking about.
Tresco has two castles and a blockhouse from the English Civil War - Cromwell's Castle and King Charles' Castle are both towards the north end of the island - and great fun. Parts of the Chronicles of Narnia: the Voyage of the Dawn Treader were filmed on the island.
I don't know what the actual story behind the drying up of Samson's water source is - but there's a fantastic fictionalised version in 'Why the Whales Came' by Michael Morpurgo, and it's a film as well, shot on the islands with local kids in the roles.
New Zealand
New Zealand, being thousands of miles away from anywhere, even Australia, was once called, 'the last civilised place on Earth before you drop off the end.' Unfortunately, no one knows who actually said that because he dropped off the end of the world before he could give his name.
New Zealand history is shrouded in the mists of time, and through the fog we might have seen Moriori (now confined the Chatham Islands), several fierce tribes of Maor,(now confined to the terraces of the Warrior games), a few feathered footballs with a beaks called Kiwi (actually the whole bird was called Kiwi, not just it's beak), and a whopping great bird with fat legs which turned out not to be the barman's wife but a Moa.
Food - Yes, there's quite a lot of that about. Mainly American food which seems to come in abbreviations but hardly ever more than two words. .
Aotearoa, the Land of the Long White Cloud (or as the indigenous people would have it, as a jolly jape, 'Land of the Wrong White Crowd') is liberally sprinkled with pies, chips, fizzy drinks and all manner of other guaranteed health risks.
Weather - The hurricane season follows rapidly on from the boiling of scalps season. Those who survive the 'water up to the armpits' season will surely enjoy the semi-tropical (North Island) and brass monkey (South Island) contrasts.
People come from far and wide to have their extremities frozen off on the ski slopes of both islands and in summer to have them baked to a frazzle.
Money - New Zealand dollars would be handy, though you could try bartering shells. Of course you'll be attacked and sectioned within the hour but you'll get free accommodation and food while you're inside.
Activities - New Zealand is known for its extreme sports and only the bravest and most physically fit should try Moa Racing or Tuatara Licking.
AJ Hackett, the father, brother and possibly uncle of bungee jumping began his empire here. Thus generating the saying 'Can you Hackett?'. If you can't, don't come here because they'll tie your feet to one of those squidgy things people in Surrey use on the roof rack of the Volvo, and throw you off a bridge.
Where to stay? - There are numerous hedgerows you could doss under and most people will let you snooze in the garage if you ask nicely. If you don't ask nicely then try kipping in the lending library before 4pm.
Of course there are some very good hotels and if you know where to find the air conditioning outlet, you can spend quite a good night snuggled up to that.
New Zealand has, what the tourist office calls 'all the world in one land'... and they're not talking about the overcrowding.
It has thermal activity which could well blow you and the family sky high in a burst of scalding water (cheaper than paying for the luge at Rainbow's End) and deserts with long, straight roads on which the car industry tests its vehicles.
The Desert Road is known, therefore as the one place where, in spite of the fact that there are no houses for 400 miles, you can't cross the road without being knocked down. Sometimes a Unimog from the nearest army campmay hit you but that is regarded as part of the NZSAS training initiative.
New Zealand have mountains and glaciers, gold-bearing hills and child-bearing hips. The Bay of Islands is known for its.... well, islands, big game fishing and the fact that Zane Grey once stayed there. You don't know who Zane Grey is? Ask your father. No, come to think of it, ask your grandfather, or maybe even his father.
There are miles of golden beaches, and clear blue seas without any pollution at all - unless you count the incontinent old biddies who take the cheap package tours and go for a paddle and a piddle.
If you really want to know about New Zealand, the best thing to do is book your passage and go there. It'll take you several days from almost anywhere else in the world - but that's how New Zealanders like it and they don't intend to move.
Phuket
The man who was responsible for Phuket becoming a tourist destination was Thai architect Mom Tri Devakul. He basically cut through the jungle that was at Kata Beach, bought a plot, built a family home and persuaded Club Med to build the first hotel down the road. Scheduled flights then began shipping in tourists by the busload, and Phuket's building frenzy, and consequent over-development followed. It's a source of sadness for Mom Tri as, ironically, he's dedicated to eco-friendly tourism.
Phuket is famed for its long, white sandy beaches, and if it is a beach holiday you are after these will not disappoint. The largest and most popular beach for tourists is Patong Beach that is 5km long. There are plenty of nightclubs, pubs and bars lining the beachfront and the markets are crammed with cheap designer-knock-off clothes and accessories.
Shopping is fun if you are prepared to haggle, and you can have great clothes made just for you much cheaper than in the UK. The quality varies so take care. This is the busiest and liveliest beach on the island and it can become very wearing fending off the stall-holders keen to offer you a bargain. The best advice is to smile and say no firmly and keep walking. Don't let stall holders grab your hands to shake as they don't let go!
Many tourists stay in the Holiday Inn hotel towards the end of the beach where things are much quieter and the beach is less crowded during the day. The hotel is lovely with great swimming pools and good restaurants. The restaurants at the hotel are more expensive than those in the resort (as usual) where there is great (and cheap) Thai food aplenty. Menus also contain loads of fresh fish and for the unadventurous there are many European restaurants.
There are many more quieter and less spoilt beaches around the island that are worth a day trip if beaches are your thing, or the whole holiday if you are after a bit of peace.
For me the best part of the trip was a visit to Phang-Na National Park. This is a chain of islands that are the remains of a giant ancient coral reef. It is possible to visit some of the islands by sea kayak, and it is a real adventure to be paddled through pitch-black caves in the islands only to arrive in lagoons hidden from the outside world. It is also possible to visit Phi-Phi (pronounced 'pee-pee') Island where The Beach was filmed.
If you're after deserted quiet beaches, avoid Patong but it's great for noisy night life and activity. The bar section of the town reverberates with the boom, boom, boom of Europop and if you look closely in the crowds you might see some extremely glamorous and flamboyant lady boys. Check out Baan Rim Pa for some excellent Thai food, right at the other end away from the Holiday Inn, again away from the busiest part of the town.
Patong is surrounded by hills, apart from the beach road there's one very tortuous way in. The road slopes to one side then the other, it's very steep and you have to look out for trucks getting stuck half way up. It requires nerves of steel and very skilful gear-changing to get over in one go, especially if you're driving a ropey jeep or moped (the vehicles of choice for your average tourist). In fact, don't try it at all, get a tuk-tuk driver to take you, just brace yourself and enjoy the ride.
Zanzibar
One of the Spice Islands just off the coast of Tanzania, Zanzibar has got to be one of the most amazing places in the Indian Ocean. As one Researcher explains:
Even the rain couldn't stop it being gorgeous. I only had four days there, and I'd kill to go back - white sand, turquoise sea, sun, amazingly friendly locals (but I don't recommend Stone Town hospital!)
Stone Town is the main port of the island, and it's where all the tourists start out - a fantabulous maze of side streets wind back from the sea. If you want to meet people go to the Africa House Hotel to watch the sunset. Go on a Spice Tour - most take you to the slave caves and the beach as well as the spice farms, where you can chew cinnamon straight off the tree.
I went up to Nungwi at the northern tip of the island - the beaches shelve there, so you can swim at low tide without having to wade a mile into the Indian Ocean - and there's loads of opportunity to go snorkeling or diving. And in the south you can go swimming with dolphins.
Gotland in the Baltic Sea
Visby, Capital of Gotland, is the Hanseatic 'city of roses' and has been on UNESCO's World Heritage List since 1995. It is surrounded by a city wall dating from the beginning of the 13th Century and the island itself is full of history with 92 medieval churches, farms, Viking graves, rune stones, museums... the list goes on. Other things worth of note include:
800km of beaches - sand or rubble stones, where you'll often find fossils.

Wild horses, rare species of birds and flowers, several kinds of wild orchids.

The Gotland cuisine is quite different from the Swedish one - I think my favourite is saffron pancakes with dewberry jam and cream...

... and they speak a dialect so special that it's almost a language of its own rather than a dialect - almost impossible to understand for a mainland Swede!
Events in July
Chamber Music Festival
Sailing competition, one of the biggest in the world
The Gotland Olympics - Stångaspelen - a very special medieval sports festival
Events in August
The Medieval Week, with performances, concerts, and shows is when many of the islanders dress up like medieval beggars, burghers and nobility
Events in November
The Gotland Grand National - the world's biggest motorcycle competition
More Info
Ko Tao
In the Gulf of Thailand lie a multitude of undoubted havens for the budding Leonardos among us. Besides Phuket there are three other islands which are well known and as a result well travelled: Ko Samui, Ko Pha Ngan and the smallest of the triumvirate, Ko Tao.
Ko Samui receives package tours and has a McDonalds and Ko Pha Ngan is (or rather was) renowned for its Full Moon parties. Having skipped over Ko Samui with a deftness that would have put Zinedine Zidane's skills to shame, one Researcher ended up on Koh Pha Ngan to partake of one of these infamous full moon parties:
After four days of a decidedly nocturnal life style we decided to venture to the neighbouring island of Ko Tao which was by popular voice, the most relaxed of the lot. We boarded the boat and wended our merry way.
As we're all aware, time is but an illusion (lunch time even more so) so how long it took to get there is unimportant. We arrived on to a wooden jetty and were instantly set upon by the five guest house owners each under cutting the next. We eventually opted for the lowest asking price and ended up staying in the last set of beach huts on the island.
As for things to do, beyond exploring the island, you could hop on a boat which takes you to the only place in the world where there are three islands all joined by one beach (obviously only at low tide!) In the sea of these islands is the most amazing snorkelling and swimming.
On Ko Tao itself you will find what is universally agreed to be the finest Banana Milkshake this side of Utopia:
Whether it was the milkshake itself or the whole experience I don't know ... 5 of us trooped off on a tour of the island and stumbled upon a café which jutted out from the top of the cliff looking out to the south east. Hammocks and huge cushions festooned the sitting area and as the sun beamed in we wolfed down gallons of the banana nectar... no milkshake has come close and I doubt one ever will.
Ascension Island
Situated in the south Atlantic (7 56'S, 14 22'W), Ascension Island is right between Africa and Brazil, northwest of St Helena. The population is about 1100 - with 200 UK and 150 US citizens. There was a lot of military stuff going on there during WW II, then it became a BBC coaxial-cable node, now, some satellite control stations are there.
Bureaucracy stuff to do before visiting Ascension Island:
All visitors to Ascension Island must have the Administrator's written permission to do so. Andrew Weir Shipping will organise the Administrator's permission for you to travel to the Island.

All visitors must be in possession of a full medical insurance policy which covers medical evacuation by air, if necessary. This can be bought on the Island or elsewhere.
You can get there:
With the Royal Air Force Tristar departing from the United Kingdom or the Falkland Islands (20 civilian passengers per flight only prices from approx. £800 - £1300)

With the Royal Mail Ship Saint Helena (the RMS cruises between Cardiff-Tenerife-Ascension Island-St Helena-Capetown). The RMS can carry up to 130 passengers. Full details of the RMS service are available from Andrew Weir Shipping .

Via the Ascension Island Webcam
Details of the accommodation available on Ascension Island is available on the Ascension Island Tourist Office Website.