Great Shopping Centres and Malls
Created | Updated Nov 25, 2004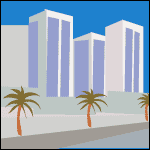 Napoléon said that England is a nation of shopkeepers, but, to be honest, these days, it's difficult to find them. One imagines a golden age of shopping, probably in the inter-war years, when grocers wore green aprons and knew the name of every single customer that crossed the threshold. Think Ike and Corabeth Godsey off The Waltons. The focal point of village gossip and the only place for miles around to get a hap'orth of boiled sweets.
Of course, it was probably never really like that, and it's certainly not like that now. The sad demise of the high street is ongoing, as big business and the head offices of retail outlets have ensured the relocation of commercial activity to shopping malls. Some might call them faceless, but they're accessible, located as they are on urban byways and in city centres. You can get everything under one roof; they have clean toilets and baby changing facilities; and there's a dazzling selection of cafés and theme restaurants to choose from for the weary. Above all, they are convenient and there's no getting away from them.
Here then, is what our Community had to say about the shopping malls and shopping centres that are familiar to them.
Royal Priors, Leamington Spa, England, UK
Royal Priors is modern, and, in the opinion of some, 'usually quite good'. It's pretty much big multiples in the town centre, but there are a few interesting independent retailers, and some local clothes outlets, on the fringes in units with external doors. However, at the time of writing, one Researcher reckons it's best avoided for reasons that will echo with most of us - building work:
There's a large amount of building work in progress, as the centre is extended at the Waterstones' end towards what they hope will be 'Phase II', rolling right through town and eventually occupying the massive, but currently unoccupied, Regent Hotel. Also, the main part is being renovated and so the layout is temporarily reduced to mayhem, there are workmen everywhere and space is restricted. Not to mention the absence of ceilings and good lighting while they renovate...
The Oracle, Reading, England, UK
Here are the pros and cons of The Oracle centre in Reading, according to one intrepid h2g2 Researcher:
Pros
It's well located, within walking distance of the town centre but not hard to get to.

There are lots of places to eat, and all of them good.

The centre boasts modern architecture but done very stylishly.

It's well laid out with plenty of signposts and an easy-to-find info desk.

They've got a multi-screen cinema.

The Oracle is kept pretty clean (unlike some malls you could go to).
Cons
Unfortunately, the centre host mostly 'label' shops, though there is an HMV (a record store), Waterstones (a bookstore) and Debenhams (a middle-range department store).

-

It's hard to find parking if you've got a big car, even though there are lots of parking spaces
The Researcher's overall verdict? 8/10. And is this the general consensus? Er... no. Read this:
The Oracle? Stylish? With a pattern on the riverside which looks like a small child's scribble I would say it was far from it. Neither would I say it was great. If you loose your parking ticket you have to pay £17.50, despite the fact that they would know what time you came into the car park from the security cameras. The map is far from user-friendly with all its numbers instead of putting shop names straight onto the map.
As for the shops? Well where can I begin... I hate shopping for clothes in the Oracle, for one, because they are grossly over-priced and for another, I always get a static shock when coming downstairs from Burtons! I would say that for a small walk you can get to Broad Street and Friar Street and the mall, where you can shop in places like Woolies (Woolworths) and Boots (non-fishbowl version) as well as all the great gaming shops along the Oxford Road. I say 'down' with big name high street traders and 'up' with the small shops on the Broad Street.
Castle Mall, Norwich, England, UK
The main section of Castle Mall shopping mall is almost completely underground. Huge skylights peek out at the Castle keep on the hill above. There is also a park on the roof with grassy lawns and shrubbery! It also has a large multiplex cinema in one of its annexes.
Definitely worth a visit, if only to sample the food in the gallery - it is actually quite good (which is unusual for a shopping mall restaurant).
Local Malls in the Metropolitan Denver Area, USA
Unfortunately, the three malls in Denver that were unusually decorated and had interesting architecture are no more. The first was Cinderella City, which for some time, was the largest mall west of the Mississippi River. It had different 'sections', each called by a different name and colour. I think they had a Gold Mall, A Rose Mall, and there was a section downstairs called Cinder Alley, which looked like an old street outdoors, complete with a street and curbed sidewalks with stores in each building facade. As a kid, I remember a department clothing store called Neusteters, which had a large spiral staircase that went from the first level all the way up to the third level.
The next mall was Villa Italia, which just closed last year. This mall was designed like a Roman villa, complete with columns and statues of Romans. In the mid 1980s, the mall underwent a major renovation, and they got rid of most of the statues and added a second floor. After the remodel, it looked just like any other mall that you would see in America.
The last mall is still in existence, but its glory days of the 1980s are over. That mall was Tabor Centre. When this mall opened in 1984, it had a distinctly trendy and 1980s look about it. It was a large glass structure that was green in colour and looked somewhat like a factory. Tabor Centre had everything in it that was definitive of the 1980s. There was a Sharper Image, a Brooks Brothers, Rocky Mountain Records and Tapes, a GNC, a B Dalton Bookstore, and a food court that was the end all be all of food courts.
My personal favourites to eat at were Myers and Wolfe, which served the best hot dogs and hamburgers around. I also liked Betsie's Brownies and Panhandler's Pizza. When Panhander's Pizza closed up shop, someone had written on the whiteboard where today's specials were posted, 'so long and thanks for all the fish'.
Indoor malls in Denver are increasingly being replaced by the large strip malls which do not have an indoor mall to walk around in. These strip malls have stores that are much, much larger than they were in the malls of past decades. In Lakewood, Westland Mall was torn down and replaced by another Westland Mall that is a strip mall. The stores are mainly half price stores like Gordman's and Big Lots! In the opinion of some, it's best to avoid going to Super K-mart at Westland. Super K-Mart is always busy with hundreds of people wanting to buy store items, but often, there are only two or three people running the check out registers at any given time.
Another Strip Mall that has now become typical of most strip malls is the Denver West Mall off of Interstate 70. There is a Barnes & Noble Bookstore that is about the size of a supermarket, and a United Artists theatre that has 12 movie theatres, each with stadium seating. There is also a Bed, Bath and Beyond, an Office Max, and a Soundtrack.
The best place to go and buy shoes, if you have a shoe size of 12 or greater is Nordstrom's The Rack in the Park Meadows Mall. They have women's shoes to size 14, and Men's shoes to size 17. The shoes are also incredibly inexpensive - I bought myself two pair of shoes, a pair of Rockports and a pair of New Balance walking shoes at a cost of $110!
Dublin, Ireland
There are two quite decent shopping centres in the city centre of Dublin. As those familiar with the place might expect, one is on the southside and one is on the northside.
Stephen's Green Shopping Centre
The southside one, Stephen's Green Shopping Centre, is architecturally interesting, mainly from the outside: Victorian iron and glass, like a curvilinear range of glasshouses. This is not fully appreciated on the inside until you go right up to the third floor, where there are art and craft shops and public toilets, which used to be 10p and are probably now 15 cents (Euros).
In the shopping centre, the shops on the first two floors (ground level and first floor) are fairly normal for a mall here: an ice cream shop, a bookshop, clothes shops, a fun-but-expensive teddy bear shop, clothes shops, a hat shop, and Dunnes Stores department store (with supermarket in the basement) reside on the ground floor, with the Cafe Kylemore (selling sausages, baked beans, eggs, chips/fries, pastries, etc) and more clothes shops mainly on the first floor. On the ground floor, a wide entry hall on the corner facing Stephen's Green park and Grafton Street is frequently used as a meeting place. Upstairs you'll find arts and crafts - including one of the best places to buy contemporary paintings in Dublin - the same sort of stuff as the art market around Merrion Square but not charging tourist-silly prices.
The Jervis Centre
The Jervis Centre on Henry Street is not as interesting, but is notable for a good Marks & Spencer, a Waterstones bookshop, and many gadgety and craft shops. Foremost among these is the Gadget Shop, upstairs. This carries Fisher Space Pen refills, compasses you can put on your watch band, lava lamps, fun piggy banks, and many, many other things. One of its few faults is the intense heat in the summer - too much electric stuff in a small space. It has fast food restaurants on the uppermost level, and electronics shops on the ground floor along with M&S and Waterstones, a Sweet Factory outlet, and a Bewley's café beside the lift. Be warned, though: this is not a self-serve Bewleys, and you could be waiting a while.
Ilac Centre
The Ilac centre, also on the northside on Parnell Street, is run-down, but it boasts the central library for Dublin, complete with Internet-linked computers (half an hour per customer; to be booked a week in advance) and foreign language conversational groups.
Also worth mentioning, though not on the scale of malls, are the Westbury shopping centre beside the Westbury Hotel, which has another bear and toy shop; and George's Street Arcade, between George's Street (South) and Drury Street. This has knick-knack and antique clothes shops, a nice, laid-back café called Simon's (cinnamon bun heaven), and several secondhand booksellers and artists. One stall sells old and foreign coins. It also boasts a little stall with lots of war memorabilia and prints. They have a little tray of Soviet pin badges for €1.25 and medals in a glass case, including the Order of the Red Banner and one that was issued to Allied troops occupying Berlin.
Although not actually a shopping centre, but still well worth mentioning, is The Source in Temple Bar. There's all kinds of frivolous impulse-buy products here, many of which are just irresistible - bean-bags, inflatable chairs, mirrors, lots of stuff with cow and sheep motifs and the Dress-Up Lenin fridge magnets.
Croydon, England, UK
Croydon is great as a centre for shopping - as it has a huge variety of shops in a very compact area. Lots of the 'high street' shops are concentrated in a pedestrianised area between East and West Croydon stations but there are also many large 'out-of-town' warehouse type stores along the A23 Purley Road a short walk away. The tram can be caught from the centre to the Purley Way, or there are lots of buses.
There are usually a few buskers on the pedestrianised area - all the usual suspects (how do those same four South American pan-pipe chaps get around so quickly?) as well as a man with a strange Oriental instrument. There is often an opera signer and a wide variety of religious types that try to grab your attention á la Life of Brian.
There are currently two actual shopping malls in Croydon, the shabby Drummond centre and the gargantuan Whitgift centre. These malls are opposite each other on the main shopping drag but the Whitgif centre wins hands down for variety of shops. A new mall is due to open in the near future that promises all sorts of fab things. Each mall has a department store attached, Debenhams in the Drummond Centre and Allders in the Whitgif centre. The new mall will have a House of Fraser in it.
The Whitgif centre has all of the expected shops, and some of the smaller boutique type stores as well. It is generally very clean but gets very crowded on the weekends - in fact the whole place is crowded at weekends. The public transport options are excellent and are probably the best way to get there. Also, they are extending the Whitgif centre even more. Allders is moving across George Street which will be covered and have walkways over it. This is also where the trams stop so the tram will be an integral part of the centre. Presumably tons more shops will rush in to fill the void where Allders used to be.
The amount of choice there is already good so it can only get better. It is great not to have to go into central London in order to buy almost anything...
Eldon Square, Newcastle, England, UK
Here's another shopping centre, this time up in the North-east of England:
A late 1970searly 1980s 'monstrosity' (which unfortunately involved knocking down most of a beautiful Georgian square - the original Eldon Square), it also includes the Green Market (though, at the time of writing, this will apparently be disappearing soon) and the slightly newer Eldon Gardens. It's got all the usual culprits, with the added bonus of a huge Fenwick's (a true department store) and the dubious honour of having the largest Marks & Spencer food department in the country (apparently). It's not that different from your average shopping centre - apart from the flying saucer! (a restaurant in the shape of a flying saucer, suspended above the teeming masses, so you can sip your cuppa and watch the hordes flock past below you). Being right in the middle of the city centre means that it's easy to get to and easy to get to other shops from... unlike the metrocentre over the river which is in the middle of a post-industrial wasteland. And it's also nice (and rare) to be able to see outside occasionally (eg, when walking over the bridge).
Lakeside, Thurrock, England, UK
It's a fair size consisting of three levels, the top-most level being home to a bewildering array of food outlets. There are television monitors hooked up to music channels which play VH1 Classic.
The usual shops you'd expect to find are here; HMV, Virgin, Game, Debenhams and most of the clothes shops that cater for the fashion conscious. There is a small amusement arcade and comic shop, which includes, among comics, a noble band of comic geeks who are quite happy to debate how much better the original Godzilla was compared to the Hollywood Godzilla. You may also be pleased to know that, along with the Warner cinema, is a Warner shop where you can buy all sorts of gubbins, including animation cells. Yippee!
As with most malls there are fountains which people, for some unexplainable reason, like to throw coins in and various benches/leaflets/maps etc. There are a couple of gadget shops and a few areas for stages and events. Recently, the Dale Winton1 extravaganza, 'Touch the Truck' was hosted here. Golly.
Down Brompton Walk, a long walkway off the main body of the mall, is a host of odd shops that sell wigs. This, in turn, lead to a 'market'-style area that sells an odd array of rugs, movie posters, trading cards, sweets and a lot of African erotic art. As you could probably tell by the name, Lakeside sits next to a dirty great big lake where lots of ducks swim and you can learn to scuba dive.
One other thing that pops to mind is the retail park near-by, that has lots of large stores, such as PC World and the always grammatically inconsistent, Toys 'R' Us. You can't get to the retail park from the mall area; you have to drive out and maneouvre around the roundabouts that seem forever to be under construction.
Lakeside is my local shopping centre as well, but I only venture there if I want to buy something. The main benefit is that most of the shops are large ones, and that it has a Woolworths.
You can also go for a bit of a cruise on the lake, in those swan boat things, but I've never seen anyone on there, and there is a boat where you can go and have a good meal, and a drink. It's not a bad centre, but I'm not sure I'd label it 'great'. There's also a UCI cinema on the retail park, although that's getting a bit tired now, as it's been there for over a decade.
Reaperman - an Aside
Yes, totally an aside. But what the hell...
Terry Pratchett's novel 'Reaperman' includes as a main plot thread the birth of a shopping mall, and makes it out to be a parasite which draws life from the city centre, thus killing the city. I have to say I thought the comparison was pretty sound, and I'm sure there are some central-city shop keepers who would be inclined to agree.
1'Lovable' camp UK TV presenter.