Baked Potato Toppings and Fillings
Created | Updated May 4, 2014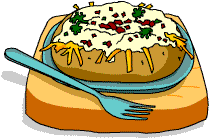 If you're going down the traditional route and are cooking it in the oven, the humble baked potato isn't exactly what you'd call fast food, but there couldn't be anything easier. Stick it in the middle shelf, leave for anything up to two hours and while it's merrily baking away you can go out and catch a film. When you come back, your supper is ready, piping hot and as filling as you like.
It's even easier to chuck a spud in the microwave. Wait for the ping and with a tin of beans or a dab of butter and a sprinkling of salt, you have an instant meal. Let's face it, it's quite hard to make a bad baked potato, but there are a number of factors that go towards making an exemplary one. Fortunately for us, the culinary giants in the h2g2 Community came up with more toppings and fillings than you could shake a pepper grinder at. Read on for a definitively mouth-watering experience...
Baked Spuds
Although wrapping the potato in foil prior to baking will make the jacket crispier, it also makes the texture of the potato 'mealier', more substantial. If you prefer a flaky potato, skip the foil and stick it directly on the rack with a layer of rock salt.
Here's a really mouth-watering list of potential potato toppings, just to get you in the mood:
Salsa (preferably chilled)
Chilli, grated cheese, and a bit of chopped onion
Plain yogurt, coriander1, and diced cucumber and/or red onion
Sautéed mushrooms (this one seems quite popular)
Pizza sauce and grated mozzarella
Caviar
Cheese and beans
Curry
Chilli con carne
Brie, Stilton or grated mature Cheddar
Cheddar and beans
Cheese and tomato
Cold cottage cheese with onion and chives, or lightly dressed coleslaw
Corned beef and horseradish
Butter with black onion seeds and a little salt
Cheese-grated and mixed with mayonnaise and spring onion,with a little sprinkle of crushed black pepper
Prawn mayonnaise
Slices of smoked sausage (smoked sausage can be heated in a microwave)
Heinz Toast Toppers
Chilli con (or non) carne
Tuna and sweetcorn mayonnaise
Over the weekend, I went to a place that served stuffed baked potatoes as an entrée. I had one with creamed corn (they had it with or without chopped fried bacon). It was good. One of my friends had one with curry sauce and pineapple, and they also served one with sauerkraut.
Tuna Baked Potatoes
This involves a tiny bit more effort than the usual procedure of opening a tin of tuna, dolloping as much as you can over the spud and letting the eager, waiting cat lick the tin out, but it's worth it. And this way, none of the tuna goes to waste (sorry, Puss).
Ingredients
4 Baking spuds
Small tin tuna
Tablespoon of capers
Small tub of low-fat soft cheese
Some grated cheese
Salt and pepper
Method
Bake the spuds in the oven. When they are cooked and the skin is crispy-ish, take the spuds out and scoop out the cooked potato. Mix this with the tuna and capers and cheese (and some salt and pepper), and mash together. Spoon the mixture back into the potato skins, put back in the oven to reheat, and when the topping is becoming brown, sprinkle with some more cheese. Edam Cheese makes quite a good topping for this dish, as does Red Leicester.
I love jacket spuds topped with baked beans and a sprinkling of grated mature Cheddar on... have to give it a quick blast under a hot grill to brown the cheese afterwards too. Or grated Cheddar with a dash of Worcestershire Sauce. And a carton of seafood cocktail from the deli counter mixed with thousand island dressing...
Oooh, just thought of two more; crispy fried onions and cheese... and crispy bacon and cheese.....
Cheesey Baked Spuds - or 'Cowboy Food'
One Researcher's mum does a 'cracking, simple baked potato recipe':
Ingredients
A willing potato
Some grated Cheddar
Method
Bake the potato as normal in an oven (microwaves won't get the skin crisp enough for this), then once it's done, cut into it and scoop out all of the potato, leaving just the skin. Now mash the potato with a big helping of the grated Cheddar and then refill the skin with your new potato/cheese mix. Sprinkle the remaining Cheddar on top and either pop it back into the oven or, if it will fit, under a grill. This makes the potato skin a little crisper and also toasts the cheese to give it a nice firm crust.
Serve with a couple of burger patties and beans - cowboy dinner!
And a spicy wee variant on this general simple cheese theme:
Once baked, open and fill with cheese of your choosing. Then sprinkle some paprika pepper over it to taste creating a spicy hot variant on plain cheese. Place back under the grill for a minute to let the cheese melt with the paprika through it
.
Baked Potatoes with Leeks and Fontina
Ingredients
2 medium-sized baking potatoes, about 350g each
2 or 3 medium-sized leeks
70g butter
90-120g Fontina, coarsely grated
Method
Scrub the potatoes, then while they are still damp dust them lightly with salt and leave them to dry for a few minutes. Bake them at 200°C/gas mark 6 until the skin is crisp and the inside soft and fluffy - a matter of 45 minutes to an hour, depending on the variety of the potato.
Half an hour or so before you expect the potatoes to be ready, start cooking the leeks. Split the leeks in half, wash them thoroughly, then cut them into finger-thick slices. Melt half the butter in a heavy pan, add the leeks and let them cook, slowly and covered with a lid over a low heat, until they are soft and translucent.
Split the potato in half and scoop the flesh into a mixing bowl, then drop in the leeks, the remaining butter and most of the cheese, and beat to a creamy mass with a wooden spoon or electric beater. Taste and season with salt and black pepper. Pile back into the skins, dot the last of the cheese over and return to the oven for a good 15 minutes until piping hot.
Best Varieties
For fluffy-centered, crisp-skinned baked potatoes, use mealy varieties such as Burbank, Centennial, Lemhi, Norgold, Nokotah, Yukon Gold, King Edward, Maris Piper, Wilja, Ailsa and Golden Wonder.
Have to say my favourite has to be a nice plump King Edward about the size of your hand, unless you have tiny hands of course.
Best Baked Potatoes
Some of the world's best baked potatoes can be found at the Pennsylvania Farm Show in Harrisburg, Pennsylvania, USA. There's something about a baked potato topped with rich, fresh butter and/or sour cream served piping hot in the middle of winter.
Everyone who eats one raves about them, making them an important part of this annual event. There's also an artful butter sculpture that they so generously supply for all of your buttery needs.
Cheese and Beans, Cheese and Beans...
One of the most classic and delicious of the simple jacket potato toppings has to be a mix of grated cheese and steaming hot baked beans. Not particularly healthy, but the way that the beans melt into the cheese that then melts into the potato makes it just lovely! Quick and simple, the only problem with this selection is in canteens where they make you pay for two toppings.
Vegetarian Toppings
Another favourite vegetarian topping is made up of a good dollop of the the following:
Veggie cheese, grated
Onion
Pineapple
It sounds weird, but strangely enough, all three complement each other deliciously.
Some Other Simple Toppings
A great baked potato topping is the sauce sold in jars to make chilli con carne. It rocks.

Tzatziki (with maybe a little mature Cheddar cheese, or a pinch of salt) is an excellent quick topping. Cool, creamy, crunchy, tasty. Mmmmmm.

Add some chopped scallions (spring onions if you aren't Irish) and bacon to some cream and dollop unto your baked spud. To have a virtually Colcannon variant, add lettuce as well.
Nan's Baked Potatoes
My nan used to rub the skins with vegetable oil and then salt. Crispy or what! My favourite topping is half a tin of Heinz baked beans. No butter needed so your meal has lots of fibre, no fat, and lots of taste. It even tastes good if you've had to microwave the potato!
Microwaved Potatoes
A sneaky trick to improve the palatability of microwaved potatoes is to remove them when just tender, and immediately wrap them in heavy duty aluminum foil. Let them sit for ten minutes or so, unwrap, and enjoy. This steaming makes them delightfully flaky and delicious.
Crispy Skins
For really crispy skins, wrap the potato in aluminum foil and put a pat of butter between the potato and the foil. Here's the trick, pierce the potato with a fork, before the foil goes on. The potato will release steam as the water it stores heats up, and the steam will help cook the butter to the skin. The trick is to not add too much butter, otherwise the spud gets mushy and you get mashed potatoes.
And if the jacket isn't crispy enough, remove the foil and let the buttered jacket broil for a minute. For the best baked potato you should cook in the microwave, then put in a conventional oven for about 40 minutes to get the skin nice and crispy and the middle nice and soft. So there.
Simplicity Itself
Rub olive oil and salt into the skins. It doesn't tend to absorb very much, so only use a little or you'll end up with slimey skins.

Shove directly only the oven rack (so the air flows right around) and bake for at least two hours (we're not kidding!) as hot as it'll go, the longer the better.

Add a small tin of tuna steak, drained. Do not be tempted by the (slightly cheaper) tuna chunks you get in supermarkets - they may look almost identical, but taste horrible.

Eat.
John's Skins
The best way to serve a potato is to slice them in half, scoop out about half the filling then bake the remaining potato and skin until crispy. Then add Cheddar cheese, the orange kind, sour cream, crispy bacon, and chopped scallions on top. This is another one of the best (and most fattening) ways to make a baked potato.
What is the Difference Between a Topping and a Filling?
One question that's been on the minds of our potato-mad Community is, 'what's the difference between a topping and a filling?'. Here's one theory to chew over:
Here is the difference. A filling is placed inside the potato before it is served and sometimes it is cooked into the potato. For example: cheese stuffed potatoes - a potato is cooked. Then cheese is mixed into the potato and it is returned to the oven until the cheese is melted throughout.
A topping is usually served on the side of a cooked potato so that the person eating the potato can add whichever toppings they chose. In many restaurants the toppings are placed on the potato, but they are not usually mixed in. If it is cooked into the potato, it is not a topping.
You live and learn. But surely, if a topping is put on the side, shouldn't it be a siding?
Roasted Vegetables!
As simple as the title and wonderfully tasty! This can be served as a starter (1/2 potato per person, 4 people) or two people as a main course!
Ingredients
1 or 2 Large potatoes
Red, green and yellow peppers cut into nice chunky portions (1 of each)
1 Medium red onion, sliced
1 Aubergine, peeled and diced
Small handful of Black Olives (halved)
Olive oil
2 Crushed garlic cloves
A sprinkle of mozzarrella
Black pepper to taste
Method
First of all, put the potatoes in the oven on the top shelf to start cooking (on gas mark 4-6). They should be wrapped in foil, scored on the top, with a little salt.

Toss together the peppers, red onion, olives and aubergine and arrange in a small baking tray.

Liberally drizzle with olive oil and add the crushed garlic. (Garlic olive oil can be used, but you might find that the strong flavour 'drowns' out the others!)

Add some cracked black pepper and put into the oven on the top shelf next to the potatoes. (Its important you don't cover the vegetables because they will go soggy!)

Cook for 20-30 mins.

Cut the potatoes in half and arrange the roasted veg on top, sprinkle with grated mozzarella and wait for it to melt!
Be Creative!
Use whatever you have in the pantry/fridge/freezer - virtually anything goes well in potatoes! Lunchmeats are fantastic when chopped up, as is tuna. Cheese and butter are always winners, spices are fun to experiment with (especially those brightly coloured ones!). Little vegetables, such as peas and corn kernels or capsicum chopped finely are a great addition, and chucking in some salsa or playing around with the dips and sauces you have in the fridge is always rewarding. Make each potato different - liven up your meal!
The Next Day
Save the skins. You can even leave them out overnight. Dice up some thick-sliced bacon, cook it almost completely in a big pan. When the bacon is 90% done (to your taste, but it should be slightly chewier than usual), scoop it up into last night's potato skins with a generous amount of Cheddar, then place the skins back in the pan to cook in the bacon fat. Cook to taste, at least until the cheese has melted; guaranteed to take years off your life!
And jacket potatoes are actually great cold - refrigerate the leftovers overnight, then spread with butter and salt. They can also be reheated in a microwave but skins go a bit soggy.
Easy
Grated carrot. Grated cheese. Ground cumin. Very easy, relatively healthy and absolutely scrummy.
So darn easy even my sister can cook it, and she can't butter bread.
Even Easier
Lots and lots of butter, plenty of dried dill and sea salt.
Presentation
For a slightly different look to your spud, try opening it differently. The 'professional' way is to cut a cross in the skin, cutting about half way through the spud. Then push the bottom of the spud from opposite sides, almost as if you're squeezing its innards out - 'cos that's what happens!
Subliminal Spuds
In his book Real Food Nigel Slater says that a baked potato is the culinary equivalent of a hug.
If you're looking for a quick fix snack then bunging a spud (well pierced) into the microwave for about 10 mins (turning once) then you're onto a winner. However, if you're looking to really push the boat out and have a little bit longer then you can't beat the oven-baked spud. The oven has to be hot and the potato big. Give your tattie a once over under a tap to clean off any gubbins and then pat dry with a tea-towel or elephant loo-roll (kitchen roll). Rub over the skin some coarsely ground salt and then pop in the oven for an hour at least. Opening the door and checking to see how things are coming along only lets the heat out and makes the process take longer. Trust me, it won't burn.
When you can wait no longer and you're salivating with anticipation, take your baked potato from the oven and hold firmly in a tea towel or oven glove (it's going to be hot!). Nigel Slater recommends giving a sharp karate chop to the top of the potato so that it splits and the insides kind of splurge out. Dollop a healthy wodge of butter on top and Robert is your mothers brother2.
Salt and pepper are essential to bring out the flavour and if you're feeling particularly indulgent I can also recommend a sprinkling of garlic salt. As for toppings, you can add what you want: spinach and mushroom, baked beans, cheese, tuna mayo, chicken and sweetcorn, prawn mayo, chilli con carne, ratatouille or simply a good healthy splodge of Hellman's Mayonnaise...
At the end of the day, anything goes. Go wild! Experiment with anchovy and marmalade, dandelions and walnuts... the truth is out there.
1Coriander is called cilantro in the US.
2'Bob's your uncle' - it's a British saying. It means, 'and there you have it!' or 'and there you are!'. A sort of British 'Voila!'. Don't ask.