Recipes for Winter and Spring Vegetables
Created | Updated Feb 11, 2015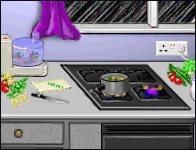 If you've got a glut of seasonal veg from your allotment or garden, the quantity is such that it's sometimes difficult to know what to do with them. Digging them out and putting them in a pot is an excellent way to enjoy simple food, but what about more elaborate culinary creations?
If you're not the gardening type you can still take advantage of the full flavours of seasonal veggies by buying them locally. Doing this supports nearby growers, as seasonal produce is frequently sold in its country or even county of origin. It also means that your greens haven't been flown halfway around the world to get to your dinner plate. Farmer's markets are an excellent place to find local seasonal vegetables, and some supermarkets also source from nearby growers.
Buying from a farmer's market means that you're buying direct from the producers with the following benefits: all the profits go to the farmers; you can ask about anything to do with the produce (such as the herbicides or pesticides used), and you'll get a full answer; and you don't have to go to a busy supermarket, which is a good thing in itself. Or, if you live in the right kind of area, you can go direct to small farms. Phone first, though. Here's what one Researcher has to say about the experience:
Where I live, you drive about an hour out of the city, and there are little farms all over the place. I usually go to one to get my apples every autumn, and there's a squash and corn place just across the road...
Another Researcher has this to say:
We're getting a goose from one of the farms for Christmas this year, and we'll get a gammon joint from one of the others, as well as all the usual veg and other stuff from the markets...
That said, here's the recipes that you the Community came back with when we asked you for your winter and Spring vegetable recipes... Marvellous stuff.
Moretum, Otherwise Known as Garlic Cheese
Garlic is a year-round veggie that will cheer up any winter dish, but for a total garlic hit try this Roman recipe which first got a mention in the ancient poem 'Moretum' or 'The Salad', attributed to Virgil.
Ingredients
4 heads garlic (not cloves, 4 whole bulbs!)
3/4 pound good strong hard cheese (Parmesan is best but pricey)
2 tablespoons olive oil
2 tablespoons wine vinegar
1 bunch coriander
1 bunch tarragon
Method
Peel the garlic, grate the cheese and, wash and chop herbs. Place into a blender and whizz until chopped. Add the oil and vinegar. Whizz again until it becomes a nice lump. Spread on toast or bread. Or anything else, really.
Warning - not surprisingly, if you don't really, really like garlic, don't try this.
Sweet and Sour Red Cabbage
The following is a Dutch version of red cabbage. It goes beautifully with turkey, goose or ham. It can be prepared a few days in advance, as it improves with time.
Ingredients
1 firm red cabbage, shredded finely. Take the white part out and discard.
2 Bramley apples, cored and quartered
About 1/4 lb of streaky bacon, diced
2 medium-sized onions, diced
6 juniper berries
About 3/4 cup red wine vinegar
1/2 cup brown sugar
Salt and pepper to taste
Method
Fry the bacon in a good-sized pot, with a little bit of olive oil. Fry the onions and the apples in with the bacon. When they have softened add the shredded red cabbage and the juniper berries. Cook gently for about 20 minutes with the lid on so that no steam evaporates. Stir occasionally. When the cabbage has softened add the vinegar and the brown sugar together with the salt and pepper. Be careful with the vinegar; the amount you use depends on the size of the cabbage. Cook for another 20 minutes, with the lid off, and stir occasionally to prevent the mixture from catching on the bottom of the pot.
If you're a vegetarian, leave out the bacon and add a little more olive oil in which to fry the onions and apples.
Brussels Sprouts with Chestnuts
1kg Brussels sprouts
1/2kg chestnuts
A good knob of butter
1/2 litre stock
Boil or steam the sprouts for 10 minutes until they're tender and ready to eat, then drain them. While they're cooking, skin the chestnuts and then along with the stock and half the butter let them gently 'sweat' on a low heat in a covered frying-pan. The chestnuts should absorb the stock and soften up. Very briefly, fry the cooked sprouts in the rest of the butter and the pepper, until the butter melts. Then turn both sprouts and chestnuts into a nice warm serving pot, mixing them gently.
Lovely. Thunderpants are go.
Tempura
Tempura works well with many vegetables - so long as you cut them into reasonably slim pieces. Any 'firm' vegetable should work: carrots, sweet potato, broccoli, spring onions or parsnips. You should also be able to use even 'flimsy' vegetables, like parsley or onions.
Mix together equal quantities of self-raising flour and cornflour. Add enough cold soda water (ice cold if possible) to make a thick batter - but don't mix it too much (use a single chopstick to help with this). The odd lump of flour will add texture.
Cut your veg into bite-sized pieces. The texture of the veg will play a part in determining how big you cut the pieces. Coat the pieces of veg in the batter.
Another way to coat your veg is to dip it in cornflour (not sieved, just straight from the packet) then dip in beaten egg white, then cornflour, then egg white then cornflour. That seems to give fairly good results.
Then deep fry until crisp and golden. You want the veg to just cook through and, at the same time, the batter should be nice and crispy.
Leek and Potato Soup
Versions of this ubiquitous soup can also be found in Surviving Winter in a Student Household and Soup Recipes.
Ingredients
1lb potatoes, peeled and sliced or diced
1lb leeks (both the white and green parts) sliced thinly
7 1/2 cups chicken stock
1 teaspoon salt
Freshly ground black pepper to taste
1 cup heavy cream (optional)
Chopped parsley for garnish
Method
Wash the leeks thoroughly, being careful to wash off any dirt or sand, and slice them thinly. Slice or dice the potatoes, and then place both the potatoes and leeks with the chicken stock, salt, and pepper in a crockpot and cook on high for about 30 minutes. Let it cool, then mash the vegetables or purée them in a food processor (a hand-held blender works just as well.) Check the seasoning and re-heat. Add cream, if so desired.
Canadian Prarie Beetroot
Here's a Canadian prairie recipe sure to convert beet haters into beet lovers.
Ingredients
2 quarts beets
1/2 cup white vinegar
1/2 cup balsamic vinegar
1 3/4 cups brown sugar
2 tablespoons dry mustard
1/2 cup flour
1 1/2 cups water
1 teaspoon sea salt
Method
Cook beets (beetroot) in their skins until tender. Cool them, then peel off skins and dice into bite-sized pieces. Heat the sugar, salt and vinegar to boiling point. Add the diced beets and heat thoroughly. Make a paste with the mustard, flour and water, and add to the beets, cook until the liquid has thickened. Stir often until cooked. Then pack the mixture into sterilised jars and seal. Makes about nine 250ml jars.
Roasted Vegetables
Roasting your vegetables in the oven is a simple and delicious way of preparing veg. It is an excellent way of bringing out the flavour in every vegetable and preserves all the vitamins and whatnot. It's surprisingly simple and will impress everyone you make it for, which is almost silly, because it's even more basic than boiling or steaming.
Pour a bit of olive oil onto a baking tray and add whole cloves of garlic, onions (quartered), halved parsnips, slices of pumpkins, chunks of (sweet) potatoes with rosemary and other veg. Drizzle a bit more oil over them, sprinkle with sea salt and pepper and stick in the oven for about an hour or so on gas mark 6/7. Maybe a bit longer if your vegetable are in big chunks. Just test them; they should be soft and caramelised round the edges. Shake them up every 15 mins or so.
If you want to get crispier roasted veg, try using goose or duck fat rather than olive or vegetable oil. Adding a topping of breadcrumbs and grated cheese (any sort, but Stilton's heavenly here) to the above is another indulgent addition.
Bubble and Squeak
The following is a recipe for bubble and squeak, to complement the recipe over here. You can use fancy veg if you want to, but whatever you choose, there's nothing better than this great brekkie dish that makes the most of left-overs.
Ingredients
Left-over cabbage or brussel sprouts, or any other veg: left-over roast spuds, parsnips and swede works a treat too. (Remember bubble and squeak is never the same when it's made with freshly cooked veg.)

Left-over boiled/mashed potatoes (they don't have to be perfectly mashed).
Method
Mix all the above together. In a large pan, melt a good tablespoon of lard. Lard works best as it makes the potato crispy. Fry the mixture until the bottom is a deep crispy brown. Turn the mixture and brown again. Serve with crispy bacon and brown sauce.