Film References in the Song 'Science Fiction Double Feature'
Created | Updated May 18, 2016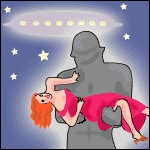 'Science Fiction Double Feature' is the opening song of Richard O'Brien's rock musical The Rocky Horror Picture Show. It sets the scene with a science fiction-styled B-movie feel and lists many films and stars of the genre, as well as one studio producing them.
Double Feature
Science Fiction, Double Feature
In the days before TV, video and DVD made it easier for the masses to be entertained, the cinema was the place to go. Each show wasn't at a multiplex; you were lucky if you had a large single-screen cinema showing a film you wanted to see, especially when the studios also dominated the theatre chains and controlled which films they were allowed to run. The experience included newsreels which gave you 'news', some of it a few weeks old, which allowed audiences to see footage of world events in moving picture form.
To give some variety to the choice of films, there were different shows on the screen at different times. There would be a main feature, a major film that would be screened every evening that the theatre was open, and the matinee programme for the children on Saturday mornings (which would include serials such as the aforementioned Flash Gordon). By the 1950s, the late night programme was often open to experimental or cult films which often appeared as a double feature - two films for the price of one ticket. So you might get Bride of Frankenstein (James Whale, 1935) alongside Son of Dracula (Robert Siodmak, 1943), for example. Sadly, the double feature has largely disappeared and the late night shows are generally now just later showings of films that can be seen during the day. As a result, their audience is often mainly students who have little else to do at that time of night.
Ironically, the movie version of the Rocky Horror Picture Show has become a late-night cult feature of its own. It is one of the few regular late-night films of this genre to continue to be run on a regular basis against the growing commercialism of the multiplex cinema experience.
Michael Rennie (1909-1971)
Michael Rennie was ill
The Day the Earth Stood Still1
Michael Rennie was born in Bradford, England into a family of wool producers, but, after his education took him to Cambridge University, he escaped his fate of working in the family business and became an actor.
He tended to lurk around casting offices looking for work and got his first job as an extra in the Alfred Hitchcock film The Secret Agent (1936). He also learned his craft with the York Repertory Theatre Company before the outbreak of war.
During the war he served as a flying officer for the RAF, which led to him first coming to the USA as a training instructor in Georgia. After the war he landed a number of small roles in British movies before landing a contact with 20th Century Fox. It was during this period that his best major roles occurred.
These included: the film named in the song, The Day the Earth Stood Still (Robert Wise, 1951) in which he appeared as Klaatu; appearing as Jean Valjean in Les Miserables (Lewis Milestone, 1952); and, in 1953, in the biblical bio-pic The Robe2 (Henry Koster, 1953). Basically, the plot entails the arrival of a alien space ship on Earth to warn humans to get their act together or face annihilation. He continued to appear in many other films as well. He also appeared in the television version of The Third Man which ran for two years and 76 episodes, Rennie taking on the role Orson Welles played in the film starring as Harry Lime. As well as appearing as the Sandman in the TV version of Batman in 1966.
Flash Gordon
Flash Gordon was there
In silver underwear
Flash Gordon was a major feature, in serial form, of the Saturday matinee programme and was based on Alex Raymond's comic strip, which first appeared in 1934. Each 'episode' would end on an intense cliffhanger as a way of ensuring the children came back week after week. In total there were three Flash Gordon serials: Flash Gordon Space Soldiers3 (Frederick Stephani, Ray Taylor, 1936) was 13 episodes long; Flash Gordon's Trip to Mars (Ford Beebe, Robert F Hill, 1938) comprised 15 episodes and the final 12 became Flash Gordon Conquers the Universe (Ford Beebe, Ray Taylor, 1940). Each episode lasted approximately 20 minutes and were stored on two reels of film. The films starred Larry 'Buster' Crabbe in the role of Flash, Jean Rogers as Dale Arden and Charles Middleton as the evil Ming the Merciless.
Claude Rains (1889-1969)
Claude Rains was The Invisible Man
Rains was born into an acting family - his father being the English actor Frederick Rains. He was encouraged from an early age to join the family firm appearing aged 11 in a performance of Nell of Old Drury. He had got the 'acting bug', but got involved initially in the technical backstage areas. He worked his way up from page boy to stage manager.
He made his American debut in 1913, returning to Britain only to join up for World War I. After the War he set about acting including his first screen appearance in a silent movie Build Thy House (Fred Goodwins, 1920) but he also joined the teaching staff at the Royal Academy of Dramatic Art (RADA) - his pupils included a young Laurence Olivier and Isabel Jeans, who became his first of six wives.
In 1932, Rains returned to perform in New York but while there he did a film test for Universal Pictures. His classically-trained theatrical voice was a great asset in the advent of talking pictures and so he was hired. His debut talkie was the film he is linked to in the song - James Whale's 1933 film The Invisible Man, in which he appeared, or rather didn't appear, in the lead role.
He carried on in Hollywood moving to Warner Brothers where he took great delight in performing a number of often sinister roles. These roles lead to four Oscar nominations for his roles as the 'bought' Senator Paine opposite James Stewart in Smith Goes to Washington (Frank Capra, 1939); as the title character in Mr Skeffington (Vincent Sherman, 1944); as a Nazi husband opposite Ingrid Bergman in Notorious (Alfred Hitchcock, 1946); and, most famously of all, as Inspector Renault in the classic Casablanca (Michael Curtiz, 1942).
In 1946, he became the first actor to collect a million-dollar fee for a picture when he played Julius Caesar in Caesar and Cleopatra (Gabriel Pascal, 1945). After the successful film, he returned with great acclaim to Broadway in 1951 to appear in Darkness at Noon. He continued to make appearances in major films - David Lean's Lawrence of Arabia (1962) and The Greatest Story Ever Told (George Stevens, 1965) - and shared another link with Rennie when he forayed into television, appearing in, among other things, Alfred Hitchcock Presents.
Fay Wray (born 1907)
But something went wrong
For Fay Wray and King Kong
Fay Wray was born in Alberta, Canada, but her family soon moved to Arizona, then to Salt Lake City. Having survived the flu epidemic of 1918, which claimed her sister's life, she ended up in Los Angeles where she became surrounded by movies, making her first appearance aged 16 in Gasoline Love. However, the 1928 film The Wedding March, directed by Erich von Stroheim, shot her to fame.
She really reached the scale of an icon when she starred as the love interest in one of the most famous monster films of all, King Kong (Merian C Cooper, Ernest B Schoedsack, 1933). She stars alongside the giant gorilla, which at one point carries her to the top of the Empire State Building. Following King Kong, she became somewhat typecast appearing in a string of low budget action films. During this roller-coaster time she was married from 1928-39 to her first husband, the playwright John Monk Saunders. In 1942, her private life moved from stage to screen when she married screenwriter Robert Riskin4, she however retired from acting. Her leading men had included Gary Cooper, Ronald Colman, Fredric March and William Powell.
When Riskin died in 1953, Wray returned to the silver screen, appearing in a number of character roles over the next five years before once again retiring from in front of the camera. She started to write plays and stories. Her autobiography, On the Other Hand, was published in 1989.
It Came From Outer Space
Then at a deadly pace
It Came From Outer Space
It Came from Outer Space (1953) was one of the first 3D films released by Universal. It was directed by Jack Arnold and starred Richard Carlson as John Putman, an astronomer from small town America, who discovers that a meteor is in fact an alien vessel. Accompanied by his girlfriend Ellen Fields, played by Barbara Rush, he goes to investigate. When they get back into town, they notice residents walking around like zombies and realise the town has been taken over. Putman needs to enlist the help of Sheriff Warren (Charles Drake) who happens to have a crush on Ellen. The 2001 film Evolution, starring David Duchovny and Orlando Jones, has many plot similarities to It Came from Outer Space.
Doctor X
Science fiction double feature
Doctor X will build a creature
Sci-fi villains since the days of the silent movies have always had suspicious looking names and, with so few names or even words beginning with 'X', to have a name beginning with 'X' made the character even more sinister. Of course, not all villains were called Doctor X - Flash Gordon's nemesis was Ming the Merciless, of course. The name, however, conjures up the image of an evil, yet brilliant, mind attempting anything in a vain attempt to defeat the hero. The unfortunate thing being that if Doctor X were a boxer, he would be retired from the ring years ago. The best cartoon example of Doctor X would have to be Wile E Coyote, the tormented cartoon character in a perpetual quest to catch roadrunner, with the help of his suppliers, ACME.
Doctor X is the subject of a couple of films in the 1930s - Doctor X (1932) and The Return of Doctor X (1939). In the former, a wheelchair-bound Doctor X5 created a monster. The monster was actually Doctor X himself. In the return, look out for a vampire played by Humphrey Bogart.
Brad and Janet
See Androids fighting Brad and Janet
All good sci-fi movies of the 1950s tended to have a clean-cut, all-American hero and a poor, innocent, misfortunate girlfriend who has been dragged along on the adventure. The hero and heroine are therefore given good American names like 'Brad' and 'Janet'. Brad and Janet are, therefore, the names of the hero and heroine in The Rocky Horror Show, played in the 1975 Picture Show version by Barry Bostwick and Susan Sarandon. There is no android in sight, just that other sci-fi staple - an artificially-created man in the form of 'Rocky'.
Anne Francis (Born 1930)
Anne Francis stars in Forbidden Planet
Anne Francis, 'The Fragile Blonde with the Mona Lisa Smile' or the 'Palomino Blonde', started in showbusiness at a young age. She was a professional magazine model at just four years old and had made 3000 appearance on network radio in the USA before she was ten. In her teenage years, she had contracts with both Metro-Goldwyn-Meyer and 20th Century Fox.
Her roles were often either the moody bad-girl or just an out-and-out troublemaker. In 1956, she appeared as Altaira along with Walter Pigeon6, who played Morbius, her father, in the sci-fi movie classic Forbidden Planet (Fred M Wilcox). The film is a futuristic reworking of Shakespeare's The Tempest. In it, Robbie the Robot represents Prospero's good slave Ariel and the Id monster represents his vile, treacherous slave, Caliban.
In 1965, Francis starred in the TV detective adventure series Honey West, in which she took the title role and appeared alongside an ocelot called Bruce Biteabit. In it, she played a female version of James Bond, being a judo expert with exploding earrings and a microphone hidden in her cocktail olive. However, like many other mimicry Bond shows of the era, it lasted only a season.
Her career wasn't hindered by this TV flop as she carried on with both TV and movies, though she was largely cut out of the musical movie Funny Girl (William Wyler, 1968) so as not to overshadow the star, Barbara Streisand. She continued to make frequent appearances until the early 1990s - at the time of writing, most recently appearing with the billing Anne-Lloyd Francis. In 1984, she briefly co-starred in action series Mama Jo.
Leo G Carroll (1892-1972)
I knew Leo G Carroll
Was over a barrel
When Tarantula took to the hills
Carroll was the son of an Irish-born British army officer and followed his father's footsteps with the outbreak of World War I. His experiences in the trenches thankfully turned him away from the military and to the stage where he had first performed at 16. He moved to the USA in 1924 where he starred in the title character The Late George Apley on Broadway.
He started to appear in films ten years after his arrival in America. Included in his early filmwork he played the uncredited Burns in the 1937 film Captains Courageous (Victor Fleming), alongside an Oscar-winning performance by Spencer Tracy, and, in 1939, he played Joseph in Wuthering Heights (William Wyler) to Laurence Olivier's Heathcliffe. He was one of Alfred Hitchcock's favourite actors, appearing in half a dozen of the great man's films, including Spellbound (1946), in which he played a scheming psychiatrist, and North by Northwest (1959), as the dry-witted CIA agent7. He immersed himself totally in his roles, shocking strangers by approaching them in character. He, therefore, was a method actor before the practise became recognised and analysed.
Universal's 1955 film Tarantula (Jack Arnold), which links him to the song, also stars John Agar, Mara Corday and Nestor Paiva8. In it, a giant tarantula spider is created by a deranged scientist using his experimental growth formula. It then runs amok and escapes into the Arizona desert - terrorising and attacking all living things it encounters - only to be eventually opposed by an unusual team, a good country doctor and a beautiful research assistant, ably assisted by the airforce.
His television roles include the ghostly sitcom Topper, in which he played the title role and as the priest Father Fitzgibbons in Going My Way. His most famous TV role was that of Alexander Waverly in The Man From UNCLE.
Janette Scott (born 1938)
And I really got hot
When I saw Janette Scott
Fight a Triffid that spits poison and kills
Born in 1938, Jannette Scott was the daughter of British actress Thora Hird. She made her movie debut, aged four, in Went the Day Well (Alberto Cavalcanti, 1942). She appeared in several other child roles before appearing in Now and Forever (Mario Zampi, 1955) saw the start of her adult career. She followed this up with appearances as Cassandra in Helen of Troy (Robert Wise, 1956) and Judith in The Devil's Disciple (Guy Hamilton, 1957). Although many of her roles were genial characters, there was shock at her performance in the 1963 remake of The Old Dark House (William Castle).
How she is remembered by Richard O'Brien and many others is for her roles in horror films such as Crack in the World (Andrew Marton, 1965) and, the one O'Brien said she looked hot in, 1962's The Day of the Triffids (Steve Sekely). The film is based on John Wyndham's 1951 book of the same name in which most of the world is blinded at the same time as an army of giant moving plants begin to take over the world. It was remade in 1981 by the BBC as a television series.
Her last film, before retiring from films and a public life to marry the singer Mel Torme, was Mission to Paradise - also known as Bikini Paradise - (Gregg C Tallas, 1966).
Dana Andrews (1912-1992)
Dana Andrews said prunes
Gave him the runes
and passing them used lots of skills
Dana worked as an accountant with the Gulf Oil Company before strutting his stuff on the boards of the Pasadena Playhouse in 1935. He signed a joint film contract with Sam Goldwyn and 20th Century Fox in 1940, starting out playing supporting roles until the shortage of actors in the War shot him into the spotlight as a leading man in films such as The Ox-Bow Incident (William A Wellman, 1943) and Laura (Otto Preminger, 1944). However, despite no military or flying experience, he found himself often cast as an airman - he was a downed bomber pilot in The Purple Heart (Lewis Milestone, 1944), a airman adjusting to civilian life in The Best Days of Our Lives (David Jamison, 1946), an airline pilot who sensed his doom in Zero Hour (Hall Bartlett, 1957), The Crowded Sky (Joseph Pevney, 1960) and Airport 1975 (Jack Smight, 1974). Maybe this was due to a limited acting ability that saw he confined to character roles again in the '50s once the war weary actors had returned from their efforts. His final screen appearance in Peter Bogdanovich's Saint Jack (1979).
The line from the song refers to the 1957 film Night of the Demon (Jacques Tourneur), which is based on a story by MR Jones, Casting the Runes. It is also sometimes known as 'Passing the Runes', hence the pun prunes and the fact that passing them can give you a thrill, some people get weird thrills. Kate Bush used a sample of Maurice Denham shouting in the film as the beginning of her song 'Hounds of Love'9.
In 1963, Andrews was appointed President of the Screen Actors' Guild, a post he held until 1965, where he criticised Hollywood's obsessive use of nudity and sordidness. A serious drinking problem, however, was affecting his acting and he almost lost his life in some drink-driving incidents. As a consequence of this, in 1972 he became a vocal encourager for alcoholics to seek professional assistance.
His television work has included co-starring in the series Bright Promise, American Girls and Falcon Crest as well as appearing in TV-Movies such as Ike (1979) in which he played General George C Marshall.
George Pal (1908-1980)
When Worlds Collide
Said George Pal to his bride
George Pal was born in Hungary and trained at the Budapest Academy of the Arts as an architect, but was unable to find work in that field in the 1920s. Instead (as many budding film directors did), he started to design art subtitles for silent films. In 1931, he started to design sets for UFA studio in Berlin and became interested in stop-motion animation. In 1933, he moved to the Netherlands where he produced a number of animated puppet shorts for Philips Radio.
He had to flee Europe after producing an anti-facist short, going to America. In 1939, he starting lecturing at Columbia University. While there, Paramount Pictures approached him to produce a series of one-reel animated shorts (less than ten minutes). It was he that became responsible for the Puppetoons (or Madcap Marionettes) series10, for which he won a special Oscar in 1943. His last animation for Paramount, a sequence for the 1947 film Variety Girl, saw a move towards special effects rather than straight puppetry.
He set up as an independent producer and, in 1950, produced The Great Rupert (Irving Pichel), a comedy starring Jimmy Durante alongside an animated squirrel. In the same year, his production Destination Moon won an Oscar for special effects. He returned to the Paramount fold and took over two Cecil B DeMille sci-fi projects - War of the Worlds (Byron Haskin, 1953) and the one the song mentions, When Worlds Collide (Rudolph Maté, 1951) - both of which won Oscars for their respective special effects teams.
Moving away from fantasy, he produced the bio-pic Houdini (George Marshall, 1953), which required special effects to recreate Houdini's illusions. He made other films for Paramount to disappointing reviews before parting company again and moving to MGM, where he directed and produced Tom Thumb (1958) and The Time Machine (1960), which again bagged Oscars for their effects teams. He then went on to Atlantis the Lost Continent (1961) and The Wonderful World of the Brothers Grimm (co-directed with Henry Levin, 1962) which allowed Pal to fill the screen with Puppetoon elves and dragons. In 1964 he produced Seven Faces of Dr Lao, which many critics considered Pal's finest work, but which was too highbrow a film for mainstream cinemas and so failed at the box office. The reaction to this film led to a long gap in Pal's career and his next film as producer, Doc Savage: The Man of Bronze (Michael Anderson, 1975), turned out to also be his last. It was an adventure movie, but effects added in post production were too cheesy even for a 1970s glam-rock-generation audience. The failure of this project, and the general recession in the film industry at the time, meant Pal was unable to gain finances for a series of sci-fi films he had been intending to produce in the later 1970s, thus preventing his return to the genre he had turned his hand to so well in the 1950s and 1960s.
RKO
I wanna go - Oh oh oh oh
To the late night, double feature, picture show
By RKO
The company started out in 1882 as a single vaudeville theatre before, over the next few decades, becoming the Keith-Albee-Orpheum theatre chain, the largest in the world at the time. In 1928 David Sarnoff, president of Radio Corporation of America (RCA), and Joseph P Kennedy11 to merge the chain with Pathé studios and Film Booking Office of America, a distribution network, to set up a new company Radio-Keith-Orpheum Corporation. Thus they established a film production company with the means to distribute and exhibit them.
The new company wanted to promote the connections between radio and the movies (the two new media of the 1920s) and so the films were produced with the trademark 'Radio Pictures', with the now famous logo of a giant radio tower sitting on a spinning earth sending out transmissions. This image is alluded to in the film of Rocky Horror when, during the song 'Superheroes', Frank N Furter tries to escape the other cast members by climbing an RKO-style radio mast only for them all to fall into a swimming pool below when it collapses.
Although one of the smaller studios in the 1930s, it had some major projects including the 1933 Marion C Cooper film King Kong, the dance films of Fred Astaire and Ginger Rogers as well as being the distributor for Disney. In the 1940s, they swept to another coup in signing Orson Welles, the progressive theatre actor/director, to a six-movie deal. Welles sprung unto the screen with his 1941 masterpiece Citizen Kane. He, however, only produced three more of his contract requirements from RKO The Magnificent Ambersons (1942), The Stranger (1946) and The Lady from Shanghai (1948). In 1955, RKO was sold to the General Tire and Rubber Corporation but RKO pictures are still producing pictures today and have a back-catalogue of over 1000 films.
1Quotes in italics are the rhyming couplets or line in which the subject is mentioned in the song.
2This was the first film to be produced in Widescreen Cinemascope which used an anamorphic lens for recording and projecting to produce a 2.55 to 1 image on the 1.33 to 1 standard film stock.
3Released on video as Flash Gordon: Space Soldiers.
4He was one of the principle assets at Columbia Pictures, one of the smaller studios at the time, along with the director Frank Capra.
5In the Rocky Horror Show, the wheelchair-bound Doctor Scott is not the villain of the piece but the Professor in whose science class Brad and Janet meet.
6After whom she named her long time canine companion and comforter Smidgeon.
7The other Hitchcock appearances being in Rebecca, Suspicion, The Paradine Case and Strangers on a Train.
8There is also a very brief early appearance of Clint Eastwood.
9It's in the trees! It's coming!
10Including John Henry and the Inky-Poo, Tubby the Tuba, and the Jasper series.
11President John F Kennedy's father.