West Ham United Football Club
Created | Updated Nov 8, 2006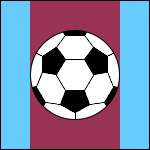 Perennial Cockney bridesmaids West Ham United owe their existence to a Mr Dave Taylor, foreman of a shipbuilding company in Canning Town, East London. When he formed Thames Ironworks Football Club in 1895, it is unlikely that he envisaged a legacy that would stretch far beyond his lifetime. Since then, the club have become famous for stylish underachievement and passionate local support, bolstered from afar by such luminaries as Dave Grohl, John Cleese and the keyboard player from the Cure.
Thames Ironworks and the Origins of West Ham United
Thames Ironworks proved to be a highly effective outfit, which may surprise those familiar with their victory-suspicious modern counterparts. In their first ever match, they drew 1-1 with Royal Ordnance, the game taking place at Hermit Road, Canning Town. The club quickly attracted attention by using experimental floodlighting fashioned from dockside equipment, although this was not enough to prevent them being evicted from Hermit Road and being obliged to play their 'home' games in the newly formed London League at their opponent's venues. Nonetheless, they finished second, which says something for the quality of the team.
In June 1900, the gallant Ironworks side was dissolved as the club became steadily more professional, and immediately reformed as West Ham United Football Club. However, an echo of the 19th Century team can still be found in the club's nickname - 'The Irons' - and the cry of 'Come on you Irons!' that on match days rings around their home ground, Upton Park. The club moved here in 1904. Although universally referred to as Upton Park, the official name is actually the Boleyn Ground, the stadium being built on the site of Green Street House, a residence once owned by Anne Boleyn. The Boleyn pub is the only clue to this former royal property: on match days, it is full of vocal West Ham supporters of a particularly physical kind, and incursions by visiting fans are ill advised and usually brief1. The first game at Upton Park was a 3-1 win over mortal enemies Millwall2. Games between the sides have been rare over the years, but are marked with great animosity, which usually translates into widespread crowd disorder.
Club Crest and Bubble Blowers
The club crest of two crossed shipbuilding hammers on a castle motif reflects both the team's origins and this tenuous royal connection. It also accounts for the clubs 'other' nickname, the Hammers. It was at the time of the move to Upton Park that the famous claret and blue strip was instigated, the original shirts being sewn together from off-cuts of material supplied by a nearby upholstery shop. Under the gaze of the club's first manager, Syd King, West Ham fared reasonably well until the outbreak of World War One, when many players were lost on the battlefields of France. King served as the club's manager for 30 years, establishing a tradition of continuity and long service - at time of writing, there have only been nine managers in the club's 107-year history.
In 1927, an advertising campaign appeared for soap. It featured a curly haired child blowing soap bubbles, who was likened to one of the West Ham players. This unlikely imagery provided the Hammers with their club anthem, which is roared by supporters several times during the course of a game. The lyrics are as follows:
I'm forever blowing bubbles
Pretty bubbles in the air
They fly so high, nearly reach the sky
And like my dreams, they fade and die
Fortune's always hiding
I've looked everywhere
I'm forever blowing bubbles
Pretty bubbles in the air!

It is an oddly sentimental rallying cry, although as many have ruefully reflected, fortune usually has hidden for West Ham.
West Ham have always been something of a middling force in English football, reluctant to abandon laudable - if not always advisable - attacking flair for a more robust and rounded tactical approach. While this invariably makes the team very entertaining to watch, it does not over burden them in the trophy department. Most of their history has been spent fluttering between the top two divisions, usually spending three or four seasons in the top flight, before stepping outside for a bit of a breather. Tactically, the team are often too fragile to sustain the level of consistency required for a sustained league campaign. But every dog has his day, and the Hammers have had a few...
The White Horse Final and Other Adventures
The FA Cup is the oldest football competition in the world, laden with romance and an epic, legendary quality all of its own. For the uninitiated, it is a knock out competition, in which teams of all leagues are drawn randomly against each other. Upsets are common - West Ham have tumbled out of the Cup to lowly opposition on more than one occasion - but it is also the competition in which they have enjoyed the most success, with three wins in four Finals.
Wembley Stadium opened in 1923, and West Ham managed to win through to the first FA Cup Final to be held there. Although the ground was built to hold 120,000 supporters, it is estimated that twice this number squeezed in to watch the match. Billie, a white police horse ridden by a constable Storey, became an instant legend as he gently nudged the vast crowd away from the pitch in order that some semblance of normality could be restored. The game kicked off forty-four minutes late, with human touchlines and frequent incursions onto the pitch. The Hammers, playing as ever with the happy contentment of a team who understand that it is the taking part that is the important thing, lost 2-0 to Bolton Wanderers. The game is known in FA Cup lore as 'The White Horse Final'.
West Ham again appeared at Wembley in 1964, this time in a thrilling match against Preston North End, coming from behind twice to snatch victory 3-2 with a last-gasp winner from Ronnie Boyce. Hammers striker Sissons became the youngest Cup Final goal scorer, and the team held the nucleus of England's World Cup winning side of 1966, with scorer Geoff Hurst and captain Bobby Moore, perhaps the best loved English footballer of all time. West Ham fans regularly assert that it was actually West Ham that beat the Germans in 1966, not England.
1975 saw a 2-0 victory against a Fulham side containing Upton Park legend Bobby Moore, playing at the tail end of his career, and West Ham's last triumph was as underdogs against Arsenal in 1980, winning an unspectacular, overly tactical affair, adversely affected by the extraordinary heat. In this match, West Ham midfielder Paul Allen became the youngest player ever to appear in an FA Cup Final3 - and he should have scored, being cruelly hacked down by Arsenal's Willie Young when clean through on goal, an action that still ruffles feathers at Upton Park. Hammers favourite-turned-pundit Trevor Brooking headed the only goal to seal an unexpected victory.
European success arrived in 1965, as TSV Munich were beaten 2-0 at Wembley. This has thus far been the only European achievement: West Ham lost to Belgian side Anderlecht 4-2 in the final of the same competition in 1976.
West Ham's modestly-sized trophy cabinet is complete with Second Division titles in 1958 and 1981. At time of writing, the club's highest league placing was a remarkable third place in the pre-Premiership First Division in 1986.
Fortune's always hiding...
Upton Park tube, towards the eastern end of the District and Hammersmith and City Lines, is by far the easiest option. Out of the station, turn right, and walk past the burger stands, chestnut sellers and vendors shouting 'Wear yer cullas! 'ats, scarves and baydges!' until you see the ground. Don't make the classic amateur error and alight at West Ham tube. Although you can catch a bus to the ground from here, you are more likely to get lost in one of the least glorious parts of London. For the same reason, victuals are best partaken of at Liverpool Street, where Central London ends and East London begins. The hooliganism for which West Ham is notorious may be smaller scale these days, but there are still plenty of random scamps about who will happily ruin your afternoon, so it is best to stay 'in town' for refreshment purposes. The overwhelming majority of West Ham fans that cram onto the tube as it winds through East London are, however, a friendly and chatty bunch, especially toward supporters of lesser-known teams. Despite a somewhat tainted reputation, the denizens of Upton Park are appreciative of good football and good support, whomever is providing it. They know that West Ham's traditional encouragement of local talent and commitment to attractive, flowing play has often seen the club at odds with the pressures of the wider football world - but frankly, that's how they like it.
1Probably best to steer clear of most of the pubs on the Barking Road, too, if you're planning a visit.
2West Ham's biggest rivals are not Arsenal, as mentioned elsewhere in the Guide.
3At 17 years and 256 days of age.