Salad Recipes
Created | Updated Jan 9, 2019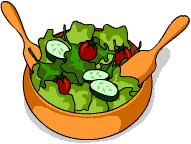 Binned off by some as rabbit food, your average salad doesn't have much of a good press. Often it is confined to half a lettuce, a few quartered and watery tomatoes and some spring onions, if you're lucky. Sometimes it doesn't get much better with the addition of more ingredients: put in some salad cress, some beetroot and a couple of celery stalks and it's hardly inspiring. Let's face it, the contents of some salad bowls are grim, and reminiscent of some dreary 1950s summer tea time.
Seasonal fruits and vegetables are supposed to be bursting with flavour, not look limp and be tasteless. Think about the delicious simplicity on your lips that a full-flavoured tomato salad brings. As well as flavour, one of the best things about a good salad is the texture. A truly superlative salad has complexity, balance and makes your mouth go zing.
Washing Salad
There's nothing worse than getting a mouthful of grit as you bite into a seemingly innocuous leafy salad. You might take another tentative mouthful, only to find more sandy crunchiness which is enough to put you off salad completely. So make sure you wash it thoroughly under running water.
If you eat salad regularly, a salad spinner that doesn't let the water drain away is a good investment. Fill it with tepid water and add a drop of fruit and vegetable wash, a biodegradable product, that's designed and marketed specifically for washing residues off fruits and vegetables. It's very much like washing-up liquid, and will give you a soapy salad if you use too much. After spinning the ingredients, rinse them under cold, running water and give a little rub if necessary, before using the spinner again to dry them.
The Importance of Drying Salad
Don't underestimate the importance of drying the salad after washing it. If you don't dry it properly, it will turn soggy. Either use a salad spinner if you have one, or dry with kitchen towel or a clean tea towel. Drying solid items like tomatoes and peppers is easy, but the ridges of salad leaves often trap water, so take care with these. One method of getting rid of the water in salad leaves is to wrap the lot in a clean tea towel, gathering the edges into a bunch, go to your back door, and swing your Dick Whittington parcel energetically to and fro. The water is forced out by the centrifugal force.
Making Lettuce Exciting
Lettuce is boring when it's on its own, but it doesn't have to be. If your lettuce is looking a bit limp, you can refresh it by dunking it in a big bowl of ice-cold water for a few minutes. Try mixing a few different types of leaf together, such as endive, lollo rosso and iceberg, to give the salad different flavours, colours and shapes. The bags of salad leaves that are available in supermarkets are great if you don't want to buy several lettuces.
There are also a number of great things you can add to the motley crew of limp lettuce, cucumber and tomatoes to make a good salad. It's often the little things that make the biggest difference. Here are a few ideas:
Nuts provide protein (cashews are great)
Seeds such as sesame
Cheese is good for protein, too
Olives
Peppers
Toasted pine nuts
Croutons
Crispy bacon
A light sprinkle of chilli powder (or paprika)
Grapes
A Special Note About Toasted Sunflower Seeds
Sunflower seeds can be toasted dry in a pan, or with oil, or with soy sauce added. Sprinkle them hot and hissing onto any salad.
Student Salad
This is a good example of how adding a few extra ingredients can go some way to a more imaginative salad, plus it's cheap and is sure to give you a much-needed energy boost.
Add tuna and sliced banana to any sort of lettuce (though the more solid stuff like lollo rosso or cos is best) and mix with a dressing made with olive oil, wine vinegar, a speck of grainy mustard and some honey.
Gourmet Salads
At the top of the salad tree is the gourmet salad. It comprises a collection of tastes and textures which makes your mouth water in anticipation.
Wilted Spinach Salad with Melted Goat Cheese and Balsamic Vinaigrette
Ingredients for the Salad
1 bag pre-washed baby spinach or a bunch of spinach, washed, spun dried and trimmed
½ cup Montrachet cheese at room temperature
¼ cup pine nuts
4oz baby portabello mushrooms, sliced thinly
3 cloves of garlic, chopped
1 tablespoon butter
1 tablespoon olive oil
1 teaspoon salt
¼ teaspoon cracked black pepper
Ingredients for the Dressing
¼ cup olive oil
1 tablespoon balsamic vinegar
1/4 cup lemon juice or white wine vinegar
¼ teaspoon cracked black pepper
Method
Heat a small skillet over a medium heat and toast the pine nuts until golden. Put the pine nuts in a bowl and, in the skillet, heat the butter and olive oil for a minute. Add the garlic, mushrooms and salt and sauté, stirring, for five minutes. Remove the skillet from the heat and cover. Next melt the Montrachet, in a small saucepan, over a medium to low heat.
Then make the vinaigrette. In a blender combine the olive oil, balsamic vinegar, lemon juice (or white wine vinegar, if you are using it), cracked black pepper and a dash of salt. Blend until the vinaigrette emulsifies. Alternatively, you can use a glass jar with a tight fitting lid, and shake the bejeezus out of it.
Put spinach in a large bowl and toss in mushrooms. Drizzle on the Montrachet. Sprinkle with pine nuts and serve the dressing on the side.
Avocado and Grapefruit Salad
A salad that's pleasant for its varied textures and flavours.
Ingredients
2 Avocado, peeled and diced
1 Grapefruit, peeled and segmented
Rocket
Baby leaf spinach
Watercress
1 Ciabatta loaf, cut into 1 inch cubes
Olive oil
White wine vinegar
Coarse grain mustard
Drizzle a little olive oil over the ciabatta and put into an oven (gas mark 6, 200°C) turning once or twice until crisp and golden brown. In the meantime, mix the avocado and grapefruit and make a vinaigrette of the oil, vinegar and coarse grain mustard. Spoon the avocado and grapefruit over the rocket, baby leaf spinach and watercress, top with the croutons and dress with vinaigrette.
Endive, Baby Beetroot and Blue Cheese Salad
This salad looks good and the taste combo is an amazing mix of bitter, sweet, pungent and toasty. This is a great salad to serve as an appetiser and needs little preparation and no dressing.
Ingredients
12 Endive leaves, washed
1 Packet of cooked baby beetroots, quartered
1 Pack Danish blue cheese, crumbled
2oz Shelled pecans, crushed
Method
Arrange the leaves in a star pattern on an appropriately-sized plate. Place the beets in a heap where the leaves meet in the middle. Sprinkle over the blue cheese and nuts.
Smoked Ham Salad
This salad is so versatile it could be used as a starter for a winter dinner party, as a side dish for a summer barbecue or as a simple lunch dish. It takes about two minutes to make a huge bowlful, tastes fantastic and really fills you up. Also, you only have the serving bowl and a pair of scissors to wash up...
Ingredients
A bag of ready-prepared leaves containing: iceberg lettuce, lollo rosso, white cabbage and frisee. (Or you could put together your own.)
Wafer-thin smoked ham
Honey mustard vinaigrette
Method
Mix the leaves with wafer thin smoked ham and dress with fresh honey and mustard vinaigrette.
Red Salad
Make a 'green' salad with red ingredients in the following way:
Ingredients
Red onion
Red cabbage
Radishes
Raddiccio
Red grapes (those small sharp red Chileans ones)
Grated beetroot
Method
Chop, slice and dice all the ingredients and toss them together in a bowl. You could use tomatoes or red peppers, too, but then that would spoil the dominant purple hue of the other ingredients.
No Cabbage Coleslaw
Chop, slice or grate a selection of three of the following:
Carrots
Yellow rather than white swedes
Radishes
Cauliflower
Mangetout peas
Denyan string beans
Then add one or more of the following:
Sunflower seeds
Pumpkin seeds
Sesame seeds
Engulf the lot in a mixture of yoghurt and mayo.
Warm Salads
Some ingredients, like tomatoes, taste better at room temperature, rather than chilled. Warm salads take advantage of this and the effect of a hot component warms leaves and other ingredients and changes their texture for the better, wilting them slightly in the process.
Warm Salad of Potatoes, Sweet Red Onions and Oregano
Cook eight medium-sized potatoes in their skins until tender. Drain and remove the skins immediately. Quarter them lengthways and place in a large bowl together with two small sweet red onions, sliced very thinly and two tablespoons of pitted green olives, quartered lengthways. Add ½ tablespoon dried oregano, eight tablespoons extra virgin olive oil, two tablespoons red wine vinegar and a pinch of salt. Mix well and serve immediately.
Warm Chicken and Bacon Salad
Grill the chicken and bacon then throw them into a hot wok with a little oil and vinaigrette for 3 to 4 minutes. Turn off the heat but leave the wok on the hob. Throw in the salad (whatever you fancy, mixed lettuce will do, but you could add some red pepper and onion). Add a little more of the dressing and toss the salad and meat together.
The warm oil and dressing will be absorbed into the salad without it going soggy. Serve immediately.
Chicken Citrus Salad
For this one, you need however much boneless chicken breast that seems appropriate for the number of people who are going to eat it. Fry it up and add it to a salad of lettuce or spinach (or a mixture of the two). Add a tin of mandarin oranges and a few spoonfuls of sunflower seeds. Top with whichever ready-made citrus dressing that catches your eye in the supermarket.
Bacon Salad
This salad can be served as a main course rather than as a starter.
Ingredients
Lettuce (such as a plain soft round lettuce or cos)
Vinaigrette made with balsamic vinegar as it goes particularly well with bacon (see 'Dressings' section below)
Any combination of:

Bacon (diced and fried until slightly crisp)
Avocado, peeled and sliced
New potatoes, steamed until soft
Method
Simply throw all the ingredients together.
Butternut Squash, Red Pepper and Mushroom Salad
A great salad that is a riot of colour, it is best served warm, but is good served cold as well.
Ingredients
1 Butternut squash, skinned and cubed
2 Red peppers, cut into strips
2 Portabella mushrooms, cut into strips
Bunch of coriander
Method
Cook the butternut squash, red peppers and mushrooms in separate pans. Sauté the peppers or roast them, it doesn't matter, but they should end up tasting sweet*. The mushrooms should be dry fried so that there is no fluid when they are cooked - a high heat is best for achieving this. Cook the squash - it should be soft while still holding its shape.
In a large bowl combine the warm ingredients and sprinkle the coriander leaves on top. Mix well. If you like a bit of crunch, you could add a few sunflower seeds before mixing, which will give the salad extra texture and will expand the nutty flavour of the squash.
*Top Tip for Cooking Peppers
To grill peppers, cut the pepper into 'cheeks', which should be as flat as possible. Brush a little oil over the skin, and place under the grill. You know they're done when the skin has gone black. Let them cool for a minute or two, and then pull off the blackened skins. It's easier if you put them still warm into a plastic food bag, tied up at the top. After a minute or two, the skins will have loosened and it will be easy to remove the skins.
Two Salads to go with Stir Fries
Salad One
This recipe complements the sorts of flavours you'll find in Asian stir-fry dishes, such as honey, ginger and soy sauce. It's not as sweet as the main dish, but the cucumber (which should have the seeds removed and be kept very cold until the moment of truth) will make the salad very fresh-tasting and will match the heartiness of the stir-fry.
Mix together romaine lettuce, cucumbers, green onions, crispy noodles, walnuts and sunflower seeds. Blend a dressing of olive oil, red wine vinegar, salt pepper and a spoonful of sugar and add a little at a time.
Shave a little fresh ginger on top of the salad, or mix the shaved ginger with the walnuts, seeds and some soft cheese (such as goat cheese) and sprinkle this mixture over the already-dressed salad.
Salad Two
Take a crisp lettuce (such as romaine, cos or little gem), some spring onion, cucumber, chopped fresh coriander and maybe some grated carrot or radishes (and baby turnips also work surprisingly well).
For the dressing, use the juice of a lime (if you don't have a lime use lemon juice and a couple of finely-chopped lime leaves), Thai fish sauce and a little bit of sesame oil. It should be seasoned with salt, pepper, about a teaspoon of sugar, a little grated ginger and some chopped fresh chilli or a crumbled dried chilli. Put all this in a little jar and give it a good shake before adding it to the salad. If you want less of a punch leave out the chilli.
If you want this to work as a main dish on its own, you could add some noodles or leftover roast beef or diced pork.
Salads Without Lettuce
There's so much more to a salad than lettuce and it's a relief to know that you can avoid it completely. Interesting items like beetroot leaves, sprouting beans and alfalfa can be used instead.
It's easy to forget that flowers can also be added to salads and give the whole meal a visual lift. Most of the well-known herbs produce edible blooms (basil, for example, produces sprays of small white flowers) and many other plants do, too. Nasturtiums, for example, are large, brightly coloured and have a hot, peppery flavour.
Home Grown Salad
One Researcher has this to say about her garden salad:
I tend to eat what grows in my garden during the summer, plus a few 'staples'. I don't wash it as I know where it's been, I just rub the dirt and insect poo off. I also don't really prepare it, I chop it all up and put it in a sandwich. Added crisps of any flavour give it that certain something, and I never forget the salad cream. Currently my salads have these ingredients:
Calendula (pot marigold) petals
Sweet rocket
Chives
The tips of St John's Wort
Fennel leaves
Spring onions
Tomatoes
Herb Salad
Mix together a selection of soft herbs: basil, coriander, flat-leaf parsley go well, and other greens such as rocket and spinach.
Colourful Salad
Slices of fresh tomato (you can use little cherry tomatoes for variation) are the main ingredient of this salad. Add red, orange and yellow peppers, goat feta, marinated garlic cloves, black olives, slices of cucumber or courgette, celery, and maybe a few bread croutons.
Carrot Salad
Finely grate some carrot and add a few poppy seeds. It does what it says on the tin.
Quick Salad
An excellent choice if you hate cucumber, tomatoes and lettuce. It might not be the healthiest salad, but it is cheap and very quick to make.
Take a tin of sweetcorn, tuna, red beans, green beans, olives and peas. Add chopped, onions, carrots, red peppers, radish and cheese. You can also add boiled eggs. Mix everything in a big bowl, using the tuna oil as a dressing. If you want to leave out the tuna, use olive oil instead.
Fruit Salad
This is a treat to be enjoyed: especially in summer when there are more varieties of fruit available.
1 Big orange
1 Grapefruit
1 Red apple
1 or 2 Bananas
Strawberries and/or raspberries and/or blueberries and/or saskatoons
Melon - any variety
You can also put in peaches, pears or plums
Cut the fruit up into bite-sized pieces and mix in a bowl. Sprinkle with sugar. Leave out on the table for about half an hour. The warmth starts the juices running and mixes with the sugar. Stir up again, and put in the fridge to chill. It's especially good with ice cream.
Delicious Leftover Salads
Taco Salad
A personal favourite of one Researcher is a 'taco salad' which combines all the best in tacos and salads into one wonderful eating orgy. It is a great way to get rid of any of last night's tacos.
Start with a bed of greens, preferably iceberg lettuce, and on top of that put either tortilla chips or broken taco shells. Spoon a few ounces of taco-seasoned ground beef or chicken that is still warm. Next, add a hearty mound of cheese (any type of shredded Cheddar is fine). On top of the cheese, add some heated refried beans so the cheese gets nice and melty between the meat and beans. Add more cheese on top of the beans and a few tomato slices. Around the edges of the plate add globs of salsa, sour cream and guacamole.
Chicken Salad
Dice two leftover chicken breasts. Take a respectable handful of red leaf lettuce thinly sliced, another handful of romaine (similarly sliced), diced red onion. Chop a yellow and a green pepper, a handful of red grapes (without seeds and halved), goat cheese and walnuts, and toss everything into a bowl. If you like your salads a little more bitter, try using endive instead of the romaine or add some to the other leaves.
Seeing as this is an incredibly versatile salad, there are two dressing choices for this recipe:
Dress with extra-virgin olive oil and raspberry balsamic vinegar, sprinkle on salt and pepper, give a lemon a good squeeze over the bowl to finish it off.
For creamy goodness, try a few spoonfuls of mayonnaise and a nice squirt of basic yellow mustard. Use white pepper and salt along with some fresh dill. The dill really lightens up the mayo.
Traditional Salads
This section contains all salads that we're familiar with, even if we're not all familiar with the ones listed here.
Waldorf Salad One
Most Brits remember the Waldorf salad as the thing the loud American was trying to order in Fawlty Towers. It's a delicious salad for anyone who has ever peeked under the lettuce leaves of their jumbo salad only to find... more lettuce leaves. This salad doesn't store well, so it's best if you only make enough for the number of people you are serving. This will be tricky, because everyone will want some more.
Simply chop up celery, apple, cheese and nuts. Combine celery, apple and cheese. Roast the chopped nuts and then mix them in with everything else. Stir in a few spoonfuls of ranch or Caesar dressing which will stop the apple from browning.
Waldorf Salad Two
Combine celery, apples, walnuts and grapes and coat lightly in mayonnaise.
Waldorf Salad Three
Combine celery, apple and cubed cheese with a normal salad dressing.
Caesar Salad
Invented by the New York chef Caesar Cardini.
Finely mince some garlic and let it soak a while in the olive oil you'll use for the dressing. Rip up some romaine lettuce into a bowl. Sprinkle with Parmesan shavings, pour the garlic oil over it, squeeze on some lemon juice.
You can also add sardines or chopped chicken breast.
Tre Colore
A simple Italian salad that's excellent as a starter.
Ingredients
Cherry tomatoes have a good flavour, but if you can find some full-flavoured plum tomatoes, use these if you can.
Mozzarella (plaited buffalo mozzarella is amazing if you can find it, but it tends to be rather expensive)
Avocado
Oil, salt and pepper
Basil and vinegar (both optional)
Method
Chop the tomatoes and avocado and rip the mozzarella into whatever shapes and sizes appeal to you, and arrange attractively on the plate. Throw over some torn basil if you're using it. At this point, either serve as it is, making sure that there is oil, vinegar, salt and pepper available for people to season their own, or make one of the dressings below and pour it on.
Caprese
Another classic Italian salad.
Ingredients
Mozzarella
Tomato
Basil
Oil
Vinegar (preferably balsamic, as it makes the salad heavenly)
Salt and pepper
Method
Put all the ingredients together as described in the salad above, but in this case the basil is definitely not optional and there should be plenty of it.
Variation on Nicoise Salad
Ingredients
Mixed leaf lettuce
Sweet rocket (which will give the lettuce some oomph)
1 egg (sliced or halved)
1/2 a small tin of tuna
Cherry tomatoes
Capers
Black olives
Avocado (diced or sliced)
Black pepper
Sweet string beans
A mustard or vinaigrette dressing
Method
Toss the capers, olives and avocado in with the lettuce/rocket with a touch of dressing. Add a twist of black pepper to the tuna and lay on the bed of lettuce, decorate with the egg, tomato and string beans.
Salade Lyonnaise
This is a great salad that is traditionally served as a main course in Lyon.
Ingredients
Salad greens, washed
4oz Smoked bacon or pancetta
Garlic croutons
1 Egg
Vinaigrette
Method
Place the washed and dried greens in a bowl. Gently fry the pancetta and add the croutons at the last moment to warm through. Poach the egg according to your preference, but keep the yolk runny. Put the pancetta and croutons onto the greens. Place egg on top of the salad and puncture the yolk. Squirt vinaigrette into the yolk and toss the salad.
Greek Salad One
Use ordinary tomatoes, feta cheese made from goat's milk, black or green olives and sliced red onion. The addition of finely chopped garlic to the dressing is good.
Greek Salad Two
Slice ordinary tomatoes, cucumber, red onions, black olives and good feta cheese. For a simple dressing just add olive oil, lemon juice and a little black pepper.
Greek Salad Three
Wash and chop some lettuce, add some cherry tomatoes and cubes of feta cheese. Garnish with herbs. Drizzle over a mixture of olive oil and vinegar and serve on its own or with a traditional Greek dish such as stafado.
Greek-ish Salad
This salad is Greek-ish because you use Cheddar instead of feta cheese.
Ingredients
Iceberg lettuce
4 tomatoes
A jar olives
A two inch by two inch piece of cheese cut into cubes
Olive oil or olive oil infused with garlic (you can do this by putting the oil in a jar and adding two peeled cloves of garlic. After two weeks it will be ready).
Method
Wash and dry the lettuce and tear into bite-sized pieces. Cut the tomatoes into rough chunks. Cut the olives longways into quarters. Place everything into a salad bowl and drizzle with oil, give a good mix and serve. If you can, sprinkle with fresh herbs such as basil or coriander.
A good accompaniment to Greek-ish salad is hot slices of crusty bread or ciabatta, straight from the grill or oven.
Filling Salads
Couscous Salad
Pour some couscous into a bowl. Add a pinch of salt and some oil, then pour over just enough boiling water to cover. Wait until the water is absorbed and check that the couscous has softened, then stir through ground cumin, cinnamon, ginger, chilli powder and paprika. This sounds like a lot of spice but you just need a tiny pinch of each of them.
Next add whatever you fancy: tinned chickpeas, salad leaves (romaine lettuce or rocket is good here), diced red onion, cucumber and red peppers, tomatoes and chopped fresh herbs (such as parsley, coriander and mint). Dress with lemon juice and olive oil (not extra virgin because you want the flavour to dominate) and season with salt and pepper.
Tabbouleh
100g bulgur wheat
3 good-sized tomatoes or 12 cherry tomatoes
Bunch spring onions
Handful fresh mint
Handful fresh parsley
1 or 2 lemons
2 tablespoons olive oil
Salt and freshly ground pepper
Large iceberg lettuce
Soak the bulgur wheat for about 20 minutes allowing it to soak up the water. Chop up the tomatoes, spring onions and herbs. Wash the lettuce, dry and lay the leaves around the edge of a salad bowl or large serving platter. Drain the bulgur wheat through a sieve with the spring onions to get the onions' juices flowing. Mix in the tomatoes and herbs. Squeeze over the lemon juice, pour on the olive oil, then toss the salad. Season to taste and then place in the bowl with the lettuce. The leaves can be used to scoop up the tabbouleh which can be served on its own or as an accompaniment to Arabian dishes.
Colourful Rice Salad
Red camargue, brown and wild rice are more frequently seen in supermarkets than they once were, which makes it much easier to create interesting rice salads. But if you can't find them you can put together a fun rice salad by boiling two loads of rice, one with tumeric and one without. Use basmati rice or a good long-grain rice if you cannot get basmati. To this base you can add other ingredients, such as finely chopped peppers, peas (which you can simply defrost, there's no need to cook them) and peanuts if you are not allergic to them.
Mixed Bean Salad
For best results use dried beans soaked overnight before preparing this salad, as beans from the tin do not quite have the same flavour or texture.
Ingredients
Take roughly equal proportions of:
Red kidney beans
Haricot beans
Chickpeas
Black-eyed beans
Method
If you are using dried peas or beans, soak for at least eight hours overnight. When you've done this, drain them, add fresh water to a pan, add the beans, bring to the boil and simmer on a low heat for about 2 hours or until soft. Spoon off the froth that the boiling process produces.
Next, it's time to decide whether this salad is served hot or cold. If you've decided to serve it cold, drain off the liquid, rinse the beans in a colander and leave to cool either in a covered bowl or in the fridge. Mix in some herbs and drizzle over some olive oil.
For warm bean salad, drain off the liquid as above and sprinkle herbs over the beans, add a blob of butter and serve immediately, while the butter is still melting.
Dressings
As we've seen from the recipes above, the secret of a good salad is to have plenty of ingredients which give a variety of flavours, textures and colours. However, a good dressing really does enhance a salad. Olive oil is wonderful stuff and a touch of lime juice helps. You can make dressings in advance and keep them in the fridge, so that you've always got a good one to hand.
Traditional French Vinaigrette
According to Harraps Shorter French Dictionary 'vinaigrette' is a vinegar and oil sauce, and also 'a two wheeled sedan'. This makes the word sound rather grand, but nothing could be simpler. The secret to a good vinaigrette is not to use just olive oil and balsamic vinegar. Balsamic vinegar is great for taste, being made of concentrated grape juice, but it hasn't got that acetic bite. Don't use malt vinegar either as its flavour is much too strong.
Here are several variations:
Vinaigrette One
To make a good vinaigrette, mix three parts olive oil to one part white wine vinegar and one tablespoon of French Dijon mustard. Don't be tempted to use wholegrain or English mustard instead, as the former is too sweet and latter is too hot. Throw all the ingredients into a jar. Shake until well mixed and drizzle over your salad.
You are at liberty to add whatever you like to this base, but a great herb to add to it is tarragon.
Vinaigrette Two
Use four or five parts of best quality olive oil to one part vinegar. Shake with salt and lots of freshly ground black pepper.
Vinaigrette Three
Mix half olive oil and half vinegar (use cider or white wine vinegar). Add a splash of balsamic vinegar, plus some freshly-crushed garlic and chopped herbs. You can also add some mustard for extra taste. Mix the whole lot up and you have a truly fabulous vinaigrette.
Infused Oils
Infused oils can be found in most supermarkets, but it's easy to make your own. Just put your favourite herbs or spices into a bottle of oil, and leave them to infuse for a couple of months. Hardier herbs, such as thyme and rosemary work best, as they don't disintegrate.
The best spices to use for infused oils are coriander seeds, whole peppercorns, whole chillis, cloves, cardamom pods or star anise. A couple of cloves of garlic work well, too.
Herb Oils
If you're going to use herbs that are more delicate than thyme or rosemary, then you won't have to wait a couple of months for a beautiful, delicately flavoured oil. Take a good handful of whatever herb you like (such as basil, coriander or parsley), chop finely (you could do this in a blender, if you have one). Then mix the sludge into some olive oil and allow the flavours to infuse for an hour or two. If you're using a blender, it's probably easier to blend the herbs straight into the oil.
Salad Dressing
A quick and easy salad dressing goes like this: mix together five parts olive oil to one part balsamic vinegar. If you don't have balsamic vinegar, you could use white/red wine vinegar, or perhaps tarragon vinegar.
A Final Word
One of the best things about salad is that you can either plan one meticulously, or you can take an impromptu approach. You don't have to make a fuss over it; just use your imagination as you go, as this Researcher illustrates:
I like browsing around the kitchen with the grater; grated carrot, grated courgette (grated fingers if you're not careful...) Also, those ready-to-use canned pulses are good. Drain a can of chickpeas, lightly fry them in some olive oil and garlic, season, and then mix with grated carrot and crunchy green stuff. Another favourite is squeaky bean salad: chop some (French/stringy/ the skinny long ones?) beans into inch diagonal lengths, put into boiling water until al dente like pasta. Mix in a bowl with some tomato quarters and olive oil. Season with freshly ground black pepper and salt. Called squeaky bean because that's the noise they make when you crunch them!